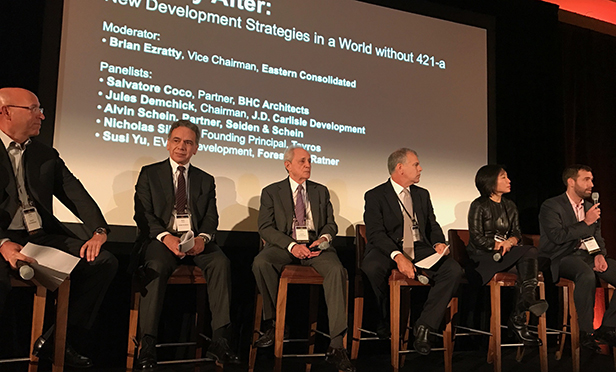 NEW YORK CITY—At first glance, attendees at Eastern Consolidated's Multifamily Summit might have assumed there was an error in the program for the eighth annual such event, which was held Tuesday in Midtown.
The conference included a session entitled, "The Day After: New Development Strategies in a World Without 421-a," even though an agreement was reached to reinstate a new version of the legislation last week.
However, as panelist Alvin Schein, partner, Seiden & Schein pointed out, the deal is not yet done. "We only have a memo from REBNY that reflects a deal between it and the labor unions," he reminded the audience. "This still has to go to Albany."
And in fact, the proposed legislation has some kinks to be worked out. The biggest of those, shared Jules Demchick, chairman, J.D. Carlisle Development, is a "movement at NYC Housing Preservation & Development to have developers add homeless persons to the affordable mix. That will impact marketing."
In fact, explained Schein, "Two weeks ago we started getting hysterical calls from developers because HPD was saying 50% of the community requirement was to be filled by the homeless. This was rolled out in the worst possible way in that HPD didn't tell anyone. There was no announcement, change of law or new regulation."
Such methods appear to be illegal, he continued, noting that "the city has a policy that if there's a change made that could impact developers negatively, there needs to be a rule change and that wasn't done."
Still, without any control over such shifts, some market players are working to take them in stride—or avoid 421-a altogether.
"We assumed 421-a was gone and have used the Industrial & Commercial Program in the outer boroughs," stated Nicholas Silvers, founding principal, Tavros. "It would be challenging to introduce the homeless into marketing programs but it'll be interesting to try and navigate what's going on."
Added Salvatore Coco, partner, BJC Architects, "We'd love to be in the city more but we've been working on Long Island for many years. There are 100,000 multifamily units needed there and different municipalities are looking at high-rise buildings to develop their downtown areas. That's why there's a market on Long Island today."
Demchick is deploying a different avoidance strategy. "We're looking for as-of right-situations. We see so many issues with construction, the different labor rates that have been proposed—it's all unclear. Until the dust settles and the smoke clears, we don't want to touch any government program. And I know some large developers aren't going to touch 421-a until it makes sense."
Yet others are looking ahead—and taking an optimistic stance while doing so.
"We're building 400-square-foot studios and 500-square-foot one bedroom units in the boroughs, and creating a quality of life through technology," said Silvers. "We're adding a simplicity and a power to people's lives; they don't miss the 75 or 100 square feet because they have great air and light or amenities. They're living the life they want to live."
Asserted Susi Yu, EVP of development, Forest City Ratner Cos., "We think this (revised 421-a) will be beneficial as it will jump start development quicker," "We're working on developing Pacific Park, creating a project that stitches some of Brooklyn's hottest neighborhoods together."