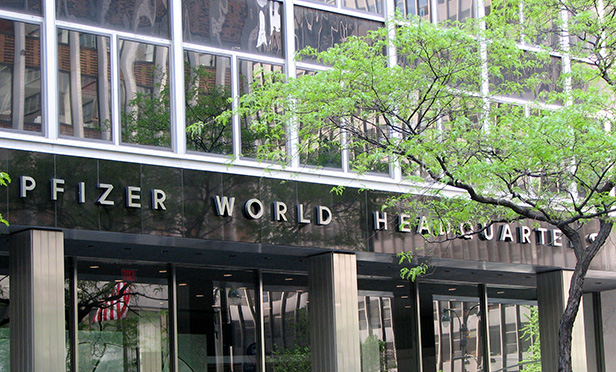 NEW YORK CITY—Cushman & Wakefield announced today the global real estate services firm has been selected to advise Pfizer on its global headquarters relocation, along with the sale of its current headquarters office space at 235 and 219 E. 42nd St. An asking price was not available at press time.
Pfizer decided to sell the properties on 42nd Street—which represent over one million square feet of space—last fall in favor of a new, modern headquarters "more reflective of its culture of collaboration and innovation with best-in-class technology to support its workforce," according to Cushman.
"Cushman & Wakefield provides the partnership, experience and expertise to execute on Pfizer's vision for their workplace," says Josh Kuriloff, executive vice chairman with Cushman & Wakefield and lead on the Pfizer account team. "A transaction with this complexity requires innovative thinking and a strong team to convert ideas into action."
In addition to Kuriloff, representing Pfizer from Cushman & Wakefield are Adam Spies, chairman, capital markets; Doug Harmon, chairman, capital markets; Debra Moritz, executive managing director, global business consulting; Peyton Horn, managing director, corporate finance and investment banking; with executive oversight by John Santora, president, tri-state region. Warren Braverman, senior managing director, will work as the relationship manager for the account.
"There is nothing more strategic, complex, or difficult in real estate than a headquarters decision," asserts Moritz. "A holistic, integrated solution allows progressive clients to drive cultural transformation—attracting and retaining the best talent. This creates a new way of looking at real estate: from a facility to a key performance enabler."
"We are extremely proud to represent Pfizer, a global leader in their industry," notes Santora. "When an assignment of this complexity and scale comes along, it gives us an opportunity to demonstrate the value in our full platform."