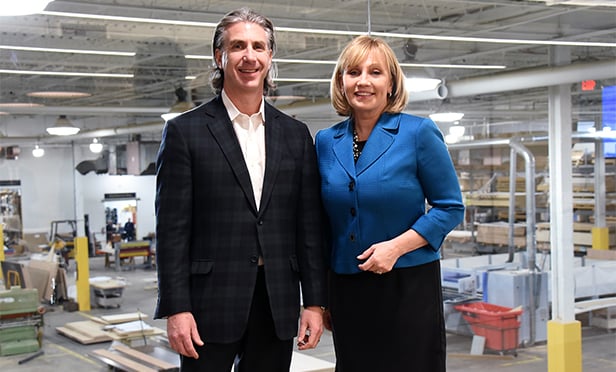 PASSAIC, NJ—When the 2009 recession hit, many businesses were left searching for resources. For Patella Woodworking, a premium architectural woodworking company based in Jersey City, that meant completely shutting down its production center in Canada. Then, in 2012, Patella Woodworking decided to leave Jersey City for what the company thought was a better location – New York State.
However, a concerted effort by state officials to lure Patella back from New York made the company's exit from New Jersey only temporary, Lt. Gov. Kim Guadagno tells GlobeSt.com exclusively.
"When a company moves out of state, they don't leave us, and we don't leave them alone," Guadagno said in a recent telephone interview. "We keep calling them, we keep checking in with them. That's the same with any company I call."
In 2011, Guadagno visited 100 businesses in New Jersey to learn about their concerns. Since that time, the state has been calling the companies on a regular basis, "to make sure nothing has changed in terms of their relationship with the State of New Jersey," she says. "If you can get to these companies early, when they're having a problem, and respond quickly to the problem, even if that response isn't always a 'yes,' then these companies have confidence that they feel welcome in New Jersey and that there is somebody in there fighting for them. Patella is just one of those examples. We never let them go."
Thanks to the state's Grow NJ incentive program, a skilled labor force and business-friendly climate, in 2014, Patella decided to give the Garden State another look.
"Without the NJ Business Action Center's support, I don't know if this return to NJ would have been possible," says Michael Ostroff, CEO of Patella Woodworking. "We are thrilled to be coming back and look forward to creating new jobs in the City of Passaic."
The NJ Business Action Center, of which Guadagno is the nominal head, convinced the company to come home, bringing over 70 well-paying manufacturing positions to a distressed part of the state. The Center used several key resources to convince Patella it was serious about bringing the firm back:
Identifying New Tax Incentives: The Center walked Patella Woodworking through the proposal process to apply for tax incentives, which resulted in a $10.3 million award through the Grow NJ incentive program administered by the NJ Economic Development Authority. The award will be spread over 10 years, and is based on creating 70 new jobs.
Finding the Ideal Location: Working closely with the Passaic County Department of Economic Development, the Center helped Patella identify an 89,000-square-foot building available for purchase in Passaic, NJ. (It had formerly been the site of the Hercules Chemical Company building at 99 South Street.)
Recruiting Skilled Labor: Patella currently employs 70 but plans to expand employment to over 100 in its new location. To assist the company with recruiting and training its specialized workforce, the Center is linking the company to a host of grants and services from the Department of Labor. Patella has also recruited former Hercules Chemical employees with experience working in the same building.
Providing Exceptional Customer Service: The Center continued to help Patella over a period of months answering questions, guiding them through the NJ Economic Development Authority's grant process and even assisting with various utility issues.
Engaging Collaboration At All Levels of Government: New Jersey's economic development efforts work best as a team. This project is a great example of how state, county and municipal government came together to create jobs and investment.
"The relocation of Patella Woodworking to New Jersey is a great story and highlights exactly the progress the state has made to improve the business climate in the Garden State," says Lauren Moore, executive director, NJ Business Action Center. "The project speaks to the high level of care and customer service provided by the BAC team and all the entities that came together to make this project a success."
The first point of contact for a company thinking of leaving New Jersey?
"They should call me, quite frankly," says Guadagno, who is known for giving out her personal cell phone number to business audiences when she speaks. "If they're uncomfortable calling me they should call the Business Action Center at 866-534-7789."