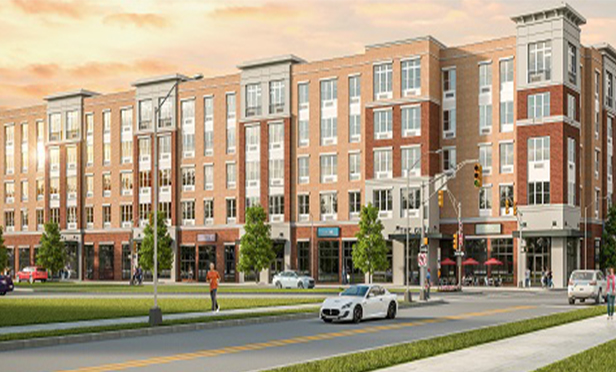 BLOOMFIELD, NJ—Developer BNE Real Estate Group is opening The Green at Bloomfield later this summer, just blocks from the train station, and says demand is strong.
The New Jersey based and family-owned organization hopes The Green at Bloomfield will be a key component of Bloomfield's emergence as one of New Jersey's sought-after transit-oriented locales. Once open for lease, the building will play an integral role in helping to pioneer a new era in the township that includes a vibrant, walkable downtown.
"The Green at Bloomfield sits at the center of an energetic neighborhood filled with bars, restaurants, shops, entertainment options, and neighboring access to popular areas of Montclair and Glen Ridge. It's the perfect combination of urban living amongst suburban charm," says Jonathan Schwartz, executive partner of BNE. "It's no surprise that people are excited to be the first residents to experience what we're calling 'Life in Bloom'. We're thrilled that The Green is going to be at the heart of Bloomfield's continued ascent."
In addition to luxury apartments, The Green will offer a comprehensive suite of upscale amenities designed to provide tenants with an all-inclusive setting that maximizes their free time and blends seamlessly with their cosmopolitan lifestyle.
These include a state-of-the-art fitness center, coffee bar, social lounge, work-from-home areas, roof terrace with resort-style lounge seating, package acceptance service, and onsite parking. Its interior offers a fresh aesthetic with a modern, inviting vibe, accentuated by impactful murals, modern wood paneling, contemporary furnishings, and other distinctive design features. Space for retail on the building's ground floor will soon provide easy access to dining, shopping and other entertainment.
Steady gains in the US economy have resulted in net positives for the multifamily sector—will this wave continue for the foreseeable future? What's driving development and capital flows? Join us at RealShare Apartments on October 19 & 20 for impactful information from the leaders in the National multifamily space. Learn more.