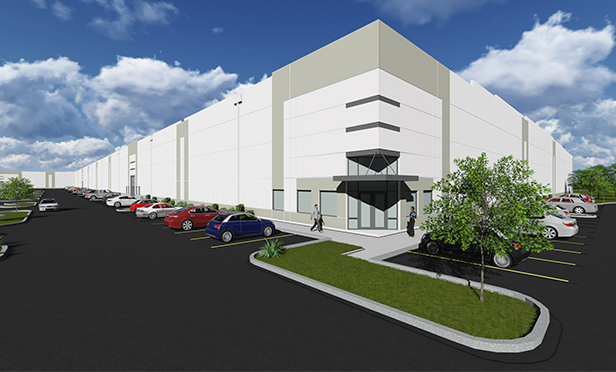 WAYNE, NJ—The first spec industrial building in Wayne, NJ in years will rise at 150 Totowa Rd. where developer Peykar Family Properties is building a new 459,822-square-foot warehouse.
Demolition is underway at the long-vacant office site following the Wayne Planning Board's approval of the site plan for a speculative industrial building, says Stan Danzig, vice chairman of Cushman & Wakefield. Danzig and Stephen Elman, also from Cushman & Wakefield's East Rutherford office, are representing Peykar, which also own Nourison Industries, a large carpet manufacturing company.
"We suggested industrial use and the company opted to move forward and develop the site themselves," Danzig says. "The town was happy to see this property with a vacant 360,000-square-foot office building being put back into use after so many years. This is the first significant spec warehouse development in Wayne in a long time."
The site presents the opportunity to build a 418,500-square-foot footprint, plus an additional 41,072 square feet of mezzanine office space, for a total of 459,822 square feet on the 32-acre site. The new warehouse will have 40-foot-clear ceilings and is designed with office space on each end of the building, so it could be divided to accommodate two or three users. The new warehouse will have loading capacity for 42 tailgates, two drive-in doors, and parking for 70 trailers and 224 cars. Danzig says he expects the new warehouse will be complete and available by the end of first quarter or the beginning of second quarter of 2018.
"Peykar Family Properties hopes to capture the very active e-commerce market, which accounts for almost half of the new spec product being built," Danzig says. "The building, however, could accommodate any use, food or consumer products, for example. It will be priced competitively in the marketplace."
"The developers are really going out of their way to build a true class A industrial building," he says, adding that the location provides fast access to I-80, I-287 and Route 46 and is close to New York City, the Port of New York and Newark Liberty International Airport.