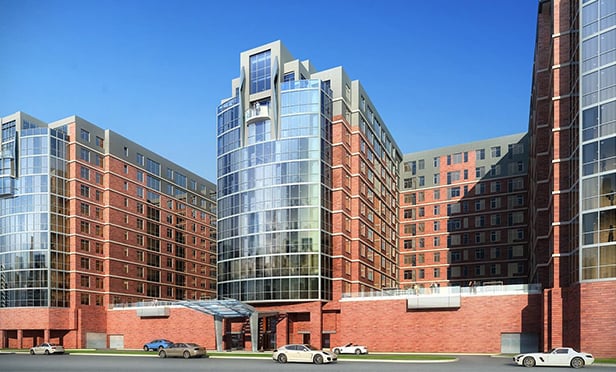 NORTH BERGEN, NJ—Completing a complex joint venture transaction, Philadelphia-based Post Brothers has acquired The Duchess, a build-to-suit project organized with Edgewater developer LWH Urban Renewal, for $166 million.
LWH built the River Road luxury high-rise for Post Brothers, in the deal that Gebroe-Hammer Associates organized.
Gebroe-Hammer Associates represented LWH and Post Brothers, in what managing director Joseph Brecher described as "a development JV, where the seller built it to the specs of the Post Brothers, with some of their materials and their own patented finishes and things of that nature. It was somewhat of a forward sale."
Matthew Pestronk of Post Brothers says North Jersey is a new target for the firm, which is looking for opportunities from the Palisades "all the way to the Statue of Liberty."
"We're bullish on Northern New Jersey," he says. "We see it as a market where the dynamics are very favorable. All the municipalities seem to have a very favorable orientation toward development and job creation. We think there's a highly educated upwardly mobile population of people that are interested in high quality housing at a relative value to everywhere else in the New York area, that's so commutable to Manhattan."
Gebroe-Hammer's team also included managing director David Oropeza, senior vice president Eli Rosen and senior vice president Nicholas Nicolaou. The transaction marked the official closing of the development agreement for the land parcel brokered by Gebroe-Hammer in 2014.
Gebroe-Hammer has a long history with Post Brothers: it helped the firm acquire Presidential City, the newly renovated luxury apartment complex off City Avenue in Philadelphia, Brecher says.
Post Brothers expressed interest in exploring opportunities closer to New York, and Brecher's team helped them identify the builder.
"We had a relationship with the seller," he says. "It took a long time just figuring out how to structure it. They're very professional, the seller knew what he wanted, and he was willing to work with them. He was able to get his price and they got the building they wanted."
The region is also very accessible to suburban office locations in New Jersey, Pestronk says.
Brecher says the project demonstrates the strength of proximity to the New York metropolitan area.
"Rents in the gentrified areas of Brooklyn are considerably higher for this kind of product," Brecher says. "People don't have a place in the city proper to get this type of product and this type of pricing, so they are going further afoot."
A three-towered, 320-unit building located at 7601 River Rd., along North Bergen's short stretch of River Road waterfront, The Duchess is welcoming tenants to Phase I. Leasing opened this past spring for the complex, which includes a water terrace with a heated outdoor pool, private cabana beds and sun chaises and a veranda boasting yoga decks, a sandbox, co-working space and child-friendly spaces. The interiors were designed by a world-renowned designer with extraordinary kitchen and bath features as well as the new owners' hallmark finishes and furnishings.
"The Duchess has set a new standard for Hudson Waterfront living, where renter-by-choice tenants value a high-end lifestyle, 'front-door' transit conveniences and proximity to New York City as well as its views, which they can bask in at any time of day from their apartment-homes," says Brecher. "New Jersey's Gold Coast is an ideal market that aligns with the buyer's business strategy to offer differentiated multi-family product within in-demand submarkets like North Bergen."
Situated adjacent to Hackensack Meridian Health/Palisades Hospital, The Duchess offers a mix of studio and one-, two- and three-bedroom layouts.
Correction, 10/31/2017, 9:15 a.m.: Because of an editing error, an earlier version of this story omitted mention of the building's size. It has 320 units.