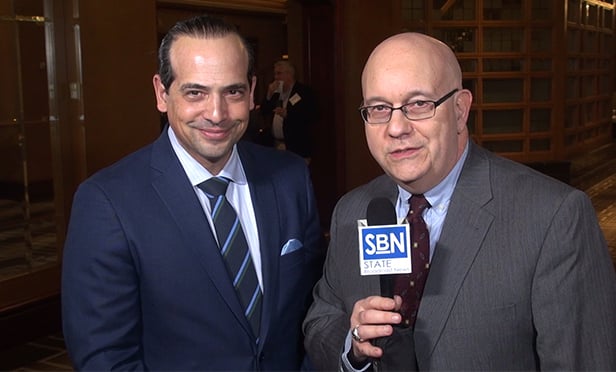 SHORT HILLS, NJ—The commercial real estate market will benefit from the business-friendly provisions of the just-enacted tax reform bill, and markets that are attracting jobs are likely to be the best-performers for all sectors of CRE in the remainder of the year, according to presenters at the NAIOP New Jersey Commercial Real Estate Outlook held at the Short Hills Hilton Monday evening.
"Good old-fashioned supply and demand still matters, but it's not the most important thing," says Spencer Levy, Americas head of research and senior economic advisor for CBRE, the keynote speaker at the program. "The most important thing is the scarcity of talent, meaning that if you're going to grow your business, you have to go to places that can grow your top line." That typically means areas that have universities generating a talent pool and a live-work-play environment that's able to retain those graduates, he says.
"I tell all of my folks, we are not in the real estate business, we are in the labor business, and do things that will attract labor to your market and to your building, to stay in your area," he says.
In his presentation to more than 300 NAIOP members and guests, Levy argued that local issues matter more than geopolitical events.
---
Watch the complete interviews with speakers from the NAIOP NJ CRE Outlook in the video player below.
---
"Local regulations and zoning are more important to the day-to-day business of most real estate professionals than if we have a geopolitical event in the Middle East or the South China Sea," Levy says.
Levy also believes Millennials will make the same life-stage decisions as their parents did, considering moving their growing families to suburban areas with live-work-play opportunities, rather than remaining in urban living situations indefinitely.
The increasing healthcare needs of Americans over 65 is already creating change in the healthcare real estate space, Levy says. Health systems are moving off traditional hospital campuses to local communities with urgent care and short-stay surgical centers, he says, noting that health care facilities are locating in traditional office and retail spaces.
"We are cautiously optimistic that market fundamentals will remain strong, that industrial will remain hot, at least till the end of the year," says Michael McGuinness, CEO of the NAIOP New Jersey chapter. "We're optimistic that more will be happening in some of these suburban areas as more of the mayors understand that their future lies in trusting our developer members who come in with a lot of great perspectives and ideas to turn their local economies around."
The recently passed tax bill made some important changes for the commercial real estate industry, says Thomas Bisacquino, president of NAIOP at the national level. "A landlord cannot do better than his or her tenants," he says. "By that I mean, corporate America needs to prosper for commercial real estate to prosper. Those are the tenants of our members. The tax bill is going to be an important incentive for corporate America."
"The market currently is very good in almost every respect," says Dave Gibbons, CEO of Elberon Development Group, president of the NAIOP NJ Chapter. "We really see that continuing. Industrial has been the favorite topic for the past year. Retail has struggled, but the right kind of retail has done just fine."
Although office properties in urban and CBD locations are doing well, suburban office continues to be challenged, Gibbons says. "The market will continue to dictate terms, and the smart owners will find ways to repurpose those properties. Some owners are doing that now, and they're doing it successfully."
Corrections. 01/23/2018, 12:04 p.m.: Because of editing errors, the name of the keynote speaker was incorrectly spelled in an earlier version of this story. His name is Spencer Levy, not Levey. Two titles were also incorrectly rendered. Michael McGuinness is the CEO of the New Jersey NAIOP chapter, not executive director, and Thomas Bisacquino is the president of the national NAIOP organization, not the CEO.