NEW YORK CITY—IEX has signed a 45,000 square-foot lease with Silverstein Properties at 3 World Trade Center. The stock exchange will be moving from its current headquarters at 4 World Trade Center. A source close to the deal tells GlobeSt.com that the asking rent is in the $80s per square foot for 10 years.
IEX was founded in 2012. The Wall Street Journal referred to the SEC's 2017 approval for IEX to list companies as starting the first competition to the New York Stock Exchange and Nasdaq in nearly a decade. In 2013, IEX established its long-term base in Downtown Manhattan, leasing space on the 30th floor of 7 World Trade Center. Experiencing early-stage growth, in 2015 IEX moved to its current location, occupying 13,000 square feet on the 44th floor of 4 World Trade Center.
IEX will occupy 45,000 square feet, the entire 58th floor at 3 World Trade Center. Its new office includes a collaborative workspace supporting the exchange's mission to build more transparent markets. The exchange now oversees more than 160 million matched shares daily at a value of nearly $9 billion, and has 85 employees, nearly all of whom will be based at the new location.
"When we first considered choosing Lower Manhattan as the home for IEX, we couldn't have predicted the positive impact it would have on our company's culture and team," says co-founder and CEO Brad Katsuyama. "The new World Trade Center is drawing emerging creative and tech enterprises to the global capital of finance, creating a dynamic environment for us as we continue to grow and innovate."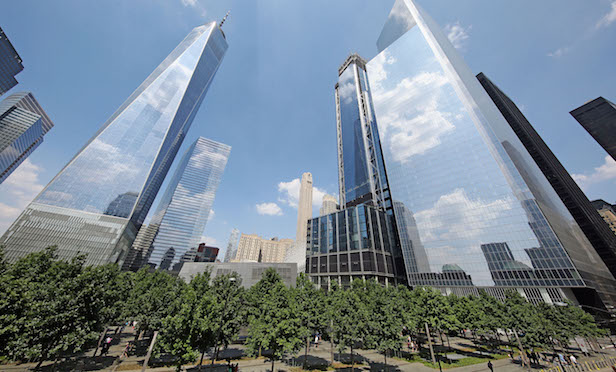 Larry Silverstein, chairman of Silverstein Properties, describes the new World Trade Center as becoming New York's creative and Fintech hub. "Fast-growing, innovative companies such as IEX can grow, expand and succeed here in a way that's simply not possible anywhere else," says Silverstein.
3 World Trade Center is built above the Oculus transportation hub. The building's first tenants, WPP companies: Mindshare, Essence, GroupM, MediaCom, Metivision & Wavemaker [m]PLATFORM and Kantar, will begin moving in this summer.
Designed by Rogers Stirk Harbour + Partners, and scheduled to open on June 6, 2018, 3 World Trade Center will be the fifth tallest building in Manhattan, and the second tallest at the World Trade Center site. With a total of 2.5 million square feet, the 80-story tower will feature 30,000 to 70,000 square-foot floors, 360-degree Manhattan views and 13-foot to 20-foot ceilings.
CBRE's Rocco Laginestra, Rob Wizenberg and Michael Wellen handled lease negotiations for IEX. Jeremy Moss and Camille McGratty of Silverstein Properties oversaw the lease signing on behalf of 3 World Trade Center along with CBRE's Mary Ann Tighe, Stephen B. Siegel, Ken Meyerson, Evan Haskell, Adam Foster, Steve Eynon, Robert Hill and David Caperna.