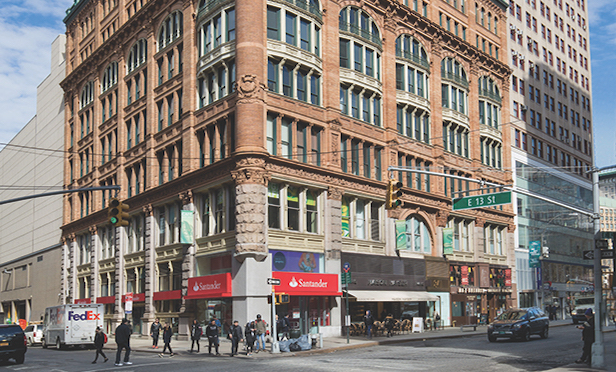 NEW YORK CITY—Ernst & Young, which rebranded as EY in 2013, has signed a new 10-year lease and expanded its space to a total of nearly 27,000 square feet, occupying the full fifth and eighth floors at 841 Broadway. The Feil Organization building is now 100% occupied. Rents at 841 Broadway and 853 Broadway, both property of the Feil's family-owned real estate firm, range from $70 to $90 per square foot.
Known as the Roosevelt Building, the eight-floor structure at 841 Broadway was originally constructed in 1913. It has been renovated with upgraded elevators, a modernized lobby, and newly installed windows.
The accounting powerhouse had announced in November 2017 plans to move its headquarters from RXR Realty's Five Times Square to the Brookfield Property Partners' One Manhattan West. New York's Empire State Development had offered $12 million in performance-based tax credits for the relocation and expansion. EY had originally agreed to lease 600,000 square feet at the new development. The New York Post subsequently reported in January 2018, that the firm increased its headquarters size to 675,000 square feet at the new location. One Manhattan West is expected to open in late 2019 or early 2020.
In addition to the 841 Broadway building, the Feil Organization has recently rented additional office space in its Midtown South portfolio. It signed a new 11,985 square-foot lease, with Digital Currency Group at 250 Park Avenue South, where the cryptocurrency trading firm will take up the entire fifth floor. Plus, the digital marketing agency Bulletproof signed a long-term lease to occupy the full eighth floor at 257 Park Avenue South.
Robert Fisher of the Feil Organization represented the real estate firm in all three leases. Cushman & Wakefield's Samuel Clark and Charlie Stephens represented EY. Michael Mathias of Savills Studley represented Digital Currency Group. Colliers International's Michael Thomas and Aidan Campbell represented Bulletproof.