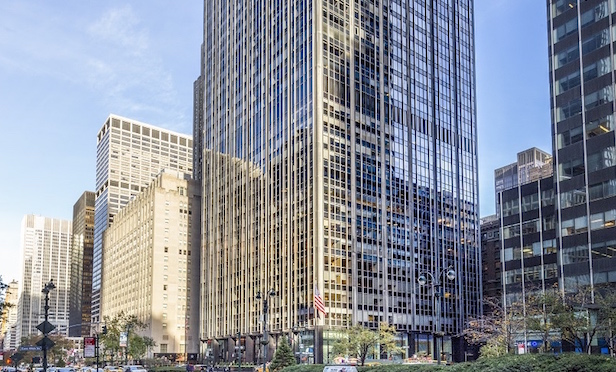 NEW YORK CITY—Goldpoint Partners has signed a 15-year lease with Fisher Brothers for 29,768 square feet of office space at 299 Park Ave. The private equity firm will occupy the entire 37th floor of the Plaza District tower. A source close to the transaction tells GlobeSt.com that the asking rent was in the upper-$90s per square foot.
In Q2 2019, the affiliate of New York Life Investment Management and subsidiary of New York Life Insurance Company will relocate from 51 Madison Ave., between E. 26th and E. 27th streets to 299 Park Ave., between E. 48th and E. 49th streets.
GoldPoint currently manages $12.7 billion in global private equity assets on behalf of pension funds, endowments, financial institutions and high net-worth investors. The firm started in 1991 with members of New York Life Insurance Company's investment division expanding the private equity program. By 1991, they formed a separate firm focused on alternative investments.
For decades the Plaza District was referenced as the most coveted and priciest commercial real estate area. However, in recent years, it has suffered with the loss of blue chip tenants who chose instead to move to newer, more modern construction in the Financial District and Hudson Yards.
Yet GoldPoint is the fourth financial firm to sign a full-floor lease at 299 Park Ave. during the past eight months, joining Traxys on the 38th floor, B. Riley on the 21st floor, and Varagon Capital Partners on the third floor. The tenant roster's other financial companies include Capital One, UBS, Carlyle, American Securities and the National Bank of Kuwait.
Richard Bernstein, Steve Braun and Christine Colley of Cushman & Wakefield represented GoldPoint Partners. Fisher Brothers was represented in-house by Marc Packman and Clark Briffel, and by Newmark Knight Frank's Andrew Sachs and Pete Shimkin.
This year, Fisher Brothers is initiating a major capital improvement program for the tower. David Rockwell and the Rockwell Group are designing the project, modernizing the lobby and entrance, and adding an illuminated plaza using a new exterior lighting system.
Designed by Emery Roth & Sons and built by Fisher Brothers, 299 Park Ave. is a 42-story, 1.2 million square-foot office tower, which opened in 1967. It has served as Fisher Brothers' long-time corporate headquarters.