NORTH LAS VEGAS, NV—VanTrust Real Estate, currently developing the 108-acre industrial Northgate Distribution Center in North Las Vegas, announced today that Fanatics, a global leader for officially licensed sports merchandise and a top-50 internet retail company, signed a lease for 400,000 SF of state-of the-art distribution space. Phase One of the two million square foot, six-building industrial park includes the largest speculative industrial building ever constructed in Southern Nevada. VanTrust is one of the most active industrial developers in Southern Nevada.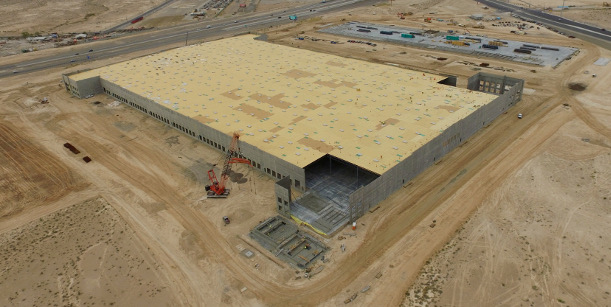 "VanTrust is incredibly excited to announce Fanatics as our first major tenant at the Northgate Distribution Center," said Keith Earnest, executive vice president of VanTrust Real Estate. Fanatics is one of the most recognizable names in sports merchandising. "Their presence in the North Las Vegas market further validates this region as an emerging e-commerce destination."
"Fanatics is excited to open our latest state-of-the-art fulfillment center in North Las Vegas and fully integrate ourselves in the community, while also creating an abundance of job opportunities for many years to come," said Lonnie Phillips, senior vice president of operations for Fanatics. "As Fanatics continues to grow, our strategic distribution system also needs to evolve so we conducted a very comprehensive search for the ideal location and we believe North Las Vegas is exactly the area we need to be in to better serve our customers with faster delivery to the West coast and Northwest."
Kevin Higgins, executive vice president of CBRE represented VanTrust in the transaction and Dan Doherty, executive vice president of Colliers International represented the tenant.
Martin Harris Contracting, Las Vegas, is the general contractor for the first phase of the project. HPA Architecture, Irvine, CA., designed the 36-foot clear height, concrete tilt building that will function as a high-cube distribution center with four levels of walkable racks.
The building product is highly convertible, and the property features high parking ratios and a semi-trailer storage area. Construction on the first phase of the project will be complete in October. Phase two will begin in August and will add an additional 600,000 square feet to the project.
VanTrust says it is continuing to seek additional acquisition and development opportunities in Las Vegas. Van Trust Real Estate, headquartered in Kansas City, MO, is a full-service real estate development company with a regional focus and national scope.