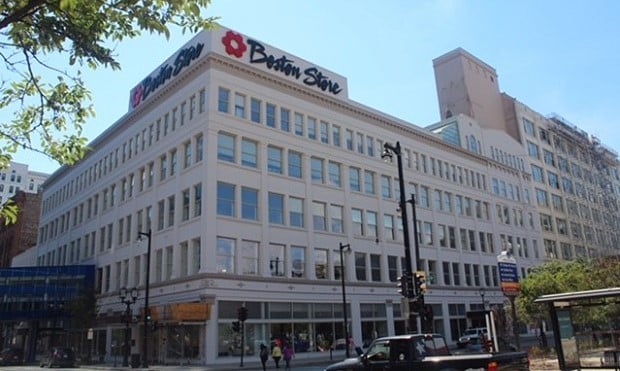 MILWAUKEE—Urban Innovations Ltd. was one of the pioneers that helped transform Chicago's River North neighborhood into a hip office center, and it has just established a foothold in Milwaukee. North Wells Capital, its investment management affiliate, just purchased 331 W. Wisconsin, a 428,652 square-foot mixed-use building located in the heart of the Downtown West Milwaukee Business District. Boston Store, an iconic Milwaukee retailer, occupies the first and second floors, with corporate offices and apartments on floors three through nine.
The 100% occupied building was acquired for $25 million from WISPARK LLC. Patrick Gallagher of CBRE Milwaukee represented WISPARK. Urban Innovations will provide property management services for the building including leasing and some construction.
"When we looked at Milwaukee, we noticed that properties were trading at much lower prices per square foot and with higher cap rates," James Fox, co-founder and chief executive officer of North Wells Capital, tells GlobeSt.com. But it was also a chance to get involved in this city's transformation.
"The trend toward urbanization is in a much earlier stage than in Chicago," Fox says, but it has been going on for about seven or eight years. Firms in the Milwaukee region "are finding that the younger millennials want to live downtown," and an office in the business district is now quite desirable.
And this building is in a great downtown location. "There is a tremendous amount of activity in the immediate neighborhood," says Fox. Track construction for the city's new streetcar system will begin this month, for example, and the line will glide right past the building, easing transportation for both workers and residents. The new Milwaukee Bucks arena is under construction just a few blocks away, and the Milwaukee Symphony Orchestra may also relocate to a nearby theater. "There is a lot of momentum and the trajectory of Downtown West is definitely on an upward swing."
Boston Store has occupied the building for nearly 100 years. Bon-Ton Stores Inc., the publicly traded operator of 262 department stores, including Bon-Ton, Bergner's, Boston Store and Carson's, occupies the 170,358 square feet of office space on floors three through five. And the Boston Lofts apartments, a 74-unit complex, totals 134,860 square feet on floors six through nine.
WISPARK created Boston Lofts out of mothballed space in 2001. And just before selling the property, it secured a 10-year lease extension from Bon-Ton Stores. But that doesn't mean the new owners won't bring in some changes.
"We plan to bring in a better set of amenities to the apartments," says Fox. And the Bon-Ton offices could also use some renovations to give their space a "new vibrancy and modern look." The city of Milwaukee has backed this project with TIF funds, and North Wells and Urban Innovations will hit the ground running with a tenant improvement package of $4 million.
Fox says the companies will also carefully evaluate other possible downtown acquisitions here. "We want to expand our Milwaukee portfolio over time."