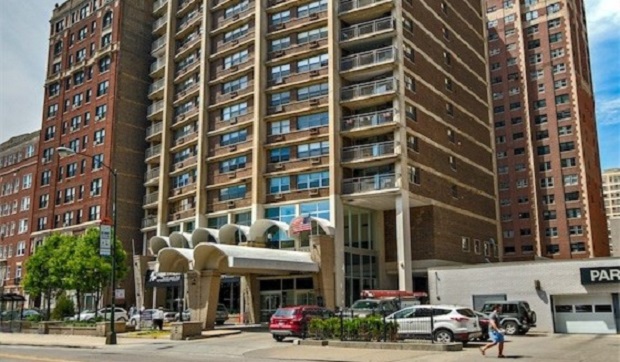 CHICAGO—It looks likely that the city will soon see a wave of condo deconversions. Considering the robust demand for Chicago apartments, especially ones near the lake or downtown, and the barriers to new construction, the financial math makes sense.
The Bel-Harbour Condo Association recently became the latest group of owners to successfully complete a sale. Their 207 units at 420 W. Belmont Ave. in the heart of Chicago's Lakeview community was bought by Strategic Properties of North America for $51.5 million.
John Jaeger, Dan Cohen and MJ Zaring of CBRE represented the seller in the transaction.
"The association got an offer from a developer and they decided to hire a broker to vet that offer," Sam Haddadin, the head of CBRE's condo deconversion practice in Chicago, tells GlobeSt.com.
Bringing in a broker early in the process was key in reaching a deal. Condo associations need 75% of its members to approve a sale, and CBRE was able to give them a value range for the building and field offers.
"The board can then look at it on a unit-by-unit basis," he adds, and then decide whether a sale makes sense. And the owners at Bel-Harbour found that their building was in demand.
"It's a great neighborhood, and very close to the lake and public transportation. That's the appeal for many buyers. The other advantage here is the add-value opportunity. It's not a small task."
Bel-Harbour is a thirty-story property with studios, one-bedrooms and two-bedrooms. Amenities include a heated indoor pool, a sun deck and on-site maintenance and management.
Haddadin says there is the strong likelihood that similar buildings will soon hit the market. "There is definitely interest from buyers and condo associations. I've gotten several recent calls from associations and individual condo owners in the neighborhood." The most desirable neighborhoods for potential buyers includes Lakeview, Lincoln Park and River North. "There is activity across the board."
However, there still isn't enough data to know or predict just how many condo units developers will transform into apartments. But interest is definitely heating up, Haddadin says.
"One year ago, most buyers would have considered a deconversion deal for 207 units a long-shot." In fact, a deal for more than 100 units would have been considered dicey.
But CBRE completed the sale of Clark Place Condominiums at 2625 N. Clark St. in December for $35 million to SPNA. That building had 133 condos, and now that CBRE has completed a 207-unit sale, many more people are beginning to take notice.
"We've proven that with the right team, and the right process, we can make these deals work," Haddadin says.