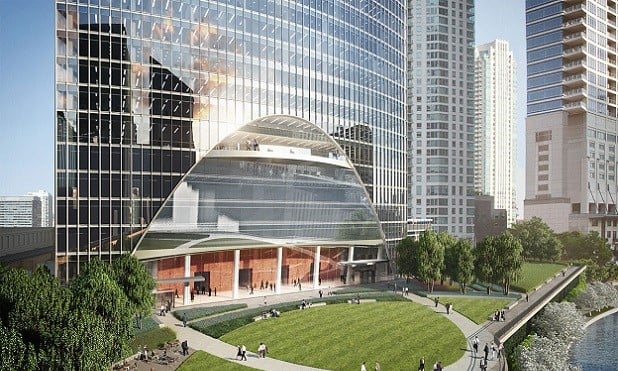 CHICAGO—Chicago's downtown prime office market just recorded the fourth largest 12-month increase of occupancy costs in the nation, according to CBRE Research's latest annual global report on the subject. The spike in costs made the CBD's top office properties among the 50 most expensive in the world. But overall expenses for this group remain far below comparable properties in Manhattan and San Francisco, and all signs point to Chicago remaining a big draw for cost-conscious tenants.
CBRE tracks occupancy costs—which reflect prime net rents, plus local taxes and service charges—for prime office space in 121 markets around the globe. Of the top 50 "most expensive" markets, 21 were in Asia Pacific, 16 were in EMEA and 13 were in the Americas.
The top properties in Chicago's downtown saw a lot of activity in the past year, including the opening of several new class A office towers with superb amenities, locations, and features. These buildings, and the rent tenants are willing to pay, helped push occupancy costs in the prime market up 10.2% over a 12-month period ending with this year's first quarter. That was the eleventh fastest climb in the world, and made Chicago's best buildings 48th in the world for overall costs.
"These properties have far outpaced the rest of the market in terms of absorption and rent growth," Sara Spicklemire, senior vice president with CBRE, tells GlobeSt.com. "And there is still a very high demand for them. Companies have shown a willingness to pay up for a new building that will help it recruit and retain talent."
And the latest jump in costs for the city's best properties was not a one-time thing. In March, CBRE found that net rents for Chicago's trophy office spaces, a subset that comprises approximately 14 million square feet, or roughly 10% of the total downtown market, rose 19.9% from 2015 to 2016.
Global prime office occupancy costs rose 1.9% year-over-year, with the Americas up 3.6%, EMEA up 0.8% and Asia Pacific up 1.2%.
Costs for Chicago's trophy sector now stand at $57.51 per square foot per year, CBRE found. But New York Midtown, number three on the global list, remained the most expensive market in the Americas, with a prime office occupancy cost of $203. New York Midtown South took the eighth spot on the global list with a cost of $156, and downtown San Francisco was 14th at $112.71.
Clients are always asking CBRE where the Chicago market's costs stand in relation to its peers around the nation and globe, Spicklemire adds. "And Chicago remains a bargain compared to the coasts. Clients say, 'Chicago gives me access to this amazing talent pool, and I can get it for at least one-third the price of Manhattan.'"
That means Chicago's market still has room for rental growth. And as long as its fundamentals remain strong, including enthusiasm among tenants for trading up to class A spaces, the continued migration of suburban companies into the CBD, and the ability of Chicago to nurture its vibrant tech sector, "we're going to continue seeing a healthy Chicago market," she says.