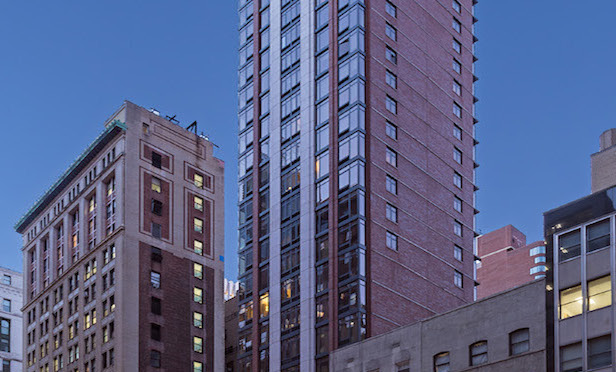 NEW YORK CITY—CIM Group LP has sold Madison Park Tower, a 36-story luxury residential apartment, for $80 million to Morgenstern Capital and TLM Equities, LLC. Cushman & Wakefield served as the exclusive advisor to the seller, and represented the buyers in arranging approximately $65 million of acquisition financing, which was provided by affiliates of Square Mile Capital Management.
The building, constructed in 2009, is located on 34th Street between Madison and Park avenues. It houses 110 studio, one and two bedroom rental residences with views of the Manhattan skyline, the Empire State Building and the East River.
The Cushman & Wakefield capital markets team of Adam Spies, Doug Harmon, Adam Doneger, Kevin Donner and Avery Silverstein represented the seller in the acquisition.
The Cushman & Wakefield equity, debt and structured finance team of Steve Kohn, Gideon Gil, Dave Karson, Alex Hernandez, Chris Moyer and Alex Lapidus represented the buyer.
"We had a tremendous market response to this financing effort. Square Mile was able to work with our clients to provide a truly customized solution for this acquisition and its business plan," said Gideon Gil, executive director in Cushman & Wakefield's equity, debt & structured finance group."
"We are thrilled to have purchased an asset of this quality at such an attractive basis. Incredibly attractive financing with a firm like Square Mile is icing on the cake," said Robert Morgenstern managing principal of Morgenstern Capital. "We look forward to implementing our capital improvement plan and a period of successful long-term ownership."
Madison Park Tower also includes 2,950 square feet of ground level retail with 28 feet of frontage along East 34th Street.