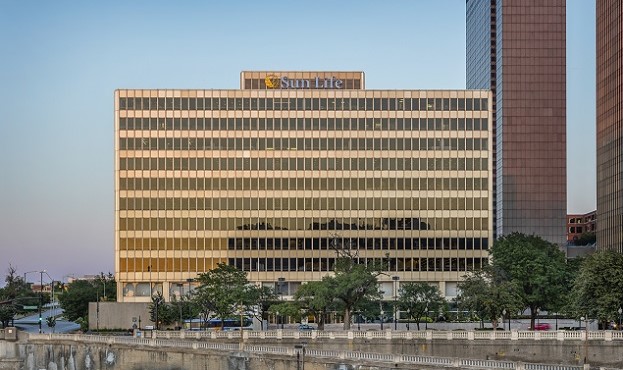 KANSAS CITY—CBRE Capital Markets' Institutional Properties just helped complete the sale of 2323 Grand, a recently renovated class A office building in Kansas City's Crown Center. A lot of potential buyers showed interest in the 11-story, 320,976 square foot building, which includes a 2.3-acre surface parking lot and a multi-level, underground parking garage.
That level of interest is in many ways no surprise. Properties like this don't hit the market often in Kansas City, and its downtown has benefitted tremendously from the national urbanization trend.
"For quite a few years, there was a migration from the downtown to the suburbs, but that has changed dramatically," Gina Anderson, first vice president of CBRE, tells GlobeSt.com. Thousands of new residents have flowed into the CBD and its surrounding neighborhoods, followed by new office tenants and sparkling amenities.
The downtown, for example, has the new nine-block Power & Light District, an $850 million project built by Baltimore-based Cordish Co. that provides live music venues, theaters, bars, restaurants and nightclubs. Furthermore, the Crossroads Arts District, which includes 2323 Grand, now has restaurants, creative office spaces, studios and art galleries. The city also recently built the KC Streetcar system, which ties together each section of the downtown.
"Many investors have called us and said, 'tell us what's going on in the CBD,'" Anderson adds. Thirteen investors put in bids for 2323 Grand. Stanton Road Capital purchased the asset from Assurant for an undisclosed price. Along with Anderson, CBRE's Gary Carr and Robert Hill arranged the transaction on behalf of the seller.
Assurant had already done a lot work to renovate 2323 Grand, which will allow the new owner to take full advantage of the downtown revival. A $6.5 million capital investment program completely modernized the elevator system and built a new roof. On-site amenities include a cafeteria with a dining room and outdoor patio, a fully-equipped fitness center, and several conference rooms.
A diverse base of credit-worthy tenants, including Sun Life Financial Services Co. Inc., Seigfried Bingham, PC, Thornton Tomasetti, Inc., already lease 83% of the space, and Stanton Road plans to further increase the cash flow by leasing up the existing vacancy. And "the development potential of the surface parking lot is very compelling," Anderson says, "given its location within the Crossroads District, which is experiencing an unprecedented wave of new development and redevelopment that has attracted creative businesses and new residents alike."
Normally, a market like Kansas City, with rising rental rates, falling vacancy, thousands of new multifamily units, and mushrooming new retail, would also see more significant investments. According to Anderson, "potential buyers sometimes ask us, 'where are the other trades?'"
But unlike many US cities, a relatively small number of local real estate families have owned most of the trophy office properties for decades, and decisions to sell come rarely. "People do want to get into Kansas City. It's not a demand issue; it's a supply issue."