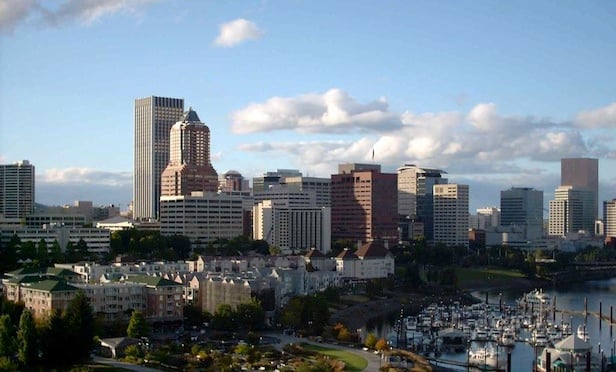 IRVINE, CA—Despite steady improvement in the national employment picture, and office-using job sectors in particular, office as an asset class is skating on pretty thin ice, Ten-X Commercial says in its latest outlook report on the sector. The report cites little movement in nationwide vacancies over the past two years and rent growth slowing to its most sluggish pace in five years.
In fact, Ten-X says in the just-released US Office Outlook, job growth among office-using sectors has surpassed the pace seen in prior economic expansions—with the tech industry being a notable driver. Yet coinciding with the cycle's employment gains have been reductions in the amount of square footage per employee, due to technology and workstyle changes that have created a surplus of space.
As of the third quarter of 2017, vacancies nationwide were unchanged from a year ago at 16.1%. However, Ten-X says they're projected to rise to 18.3% in 2021 after a modeled recessionary period in 2019-2020. Office rent growth slowed to the 1% range last year, the slowest pace since 2012. And while rent growth is expected to increases to 2% this year, the aforementioned modeled recession is expected to lead to contraction of about 2.5% during that time.
"Even with the prolonged nature of this economic cycle, demand for office space has been limited, leaving the segment extremely vulnerable," says Peter Muoio, chief economist with Ten-X. "At this point, regional nuances are getting lost. Our 'heat map' gives a graphic portrayal of the performance of the office segment, and it clearly depicts a sector that is faced with considerable risk."
In general, office markets that have recovered from the downturn are struggling with increased supply while those that are still "left behind" remain weak, says Ten-X. Twenty-six different regional markets saw their four-year projections downgraded by Ten-X in this most recent analysis, while there were none in which the four-year prospects improved, highlighting the widespread nature of the office sector's vulnerability.
Yet Ten-X sees some best bets for investors looking to acquire office assets: markets characterized by some combination of strong economic/employment growth and limited new supply. Leading Ten-X's top five is Portland, OR, where demand is enough to absorb new supply even as the city's job growth is slowing. Ten-X projects rent growth in the 3% range through 2018, pushing NOI above 4%.
Sacramento is also ranked as a "buy" market because Ten-X sees resiliency in the office sector there even amid the expected recession. Its population growth is also above the national average, while its supply pipeline is light.
Resiliency is also a theme in the other three "buy" markets—Dallas, Tampa and Long Island. For Tampa and Long Island, there's also limited new supply weighing in the markets' favor.
Conversely, Texas' largest city, Houston, leads the list of "sell" markets. Ten-X cites weak fundamentals and rising vacancies, and predicts that rents will continue declining at the start of a new, post-recessionary cycle three years from now.
San Francisco's decline in fundamentals is a more recent phenomenon; Ten-X notes that the market has been hit by job declines in the professional/business services sector while annual growth in the information sector has slowed to about 1%. Rounding out the top five "sell" markets are Memphis with declining employment in its two leading office-using sectors, Baltimore with vacancies remaining above pre-recession levels and suburban Maryland with slowing momentum in the all-important government sector.