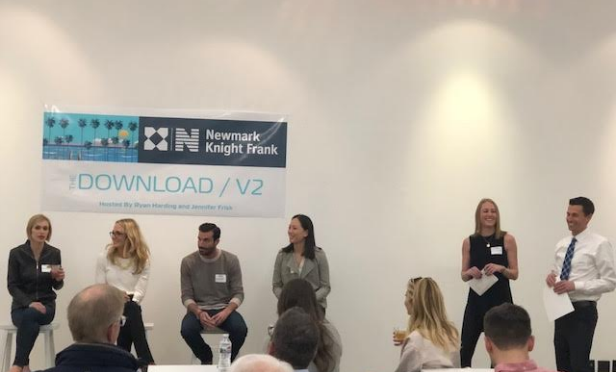 While technology has disrupted nearly every other industry, commercial real estate has yet to see the impact of new technology—but all of that is going to change. At the Download/V2 conference in Marina del Rey, tech leaders discussed how technology is going to impact the future of business. The round table discussion was led by Newmark Knight Frank's executive managing director Ryan Harding and managing director Jennifer M. Frisk with speakers Rachel Devenow, head of global tax planning at Snap; Josh Entman, co-founder and chief creative officer at Jukin Media; Julie Locke, tax business development leader and growth markets at EY; and Karin Kuo, director of people and talent at Grindr. The roundtable discussed the impact technology will impact the future of business. Following the conversation, we sat down with hosts Harding and Frisk to get their insight on how these changes will impact CRE.
GlobeSt.com: What is the next big disruptor, and how will it impact CRE?
Ryan Harding: The next big disruptor is the communication between data and technology-driven products. This includes everything from Ring, to magnetic bots that will be utilized to distribute medicine more accurately to the appropriate areas within the body. This approach to smart learning should translate to the commercial real estate world and our overall decision-making process. Technology will be able to understand a company or person's office space preferences and match them with a building. So, instead of running a survey of available space in a size range, it will look at hundreds of factors, and provide a very short list of options that match all preferences, like amenities, location, pricing, building style, peer locations. This will make the real estate process and business infinitely more efficient.
GlobeSt.com: In an age of millennial and gen-Z, how are we making real estate decisions?
Jennifer Frisk: Unfortunately, we are still making real estate decisions in a very similar manner to how we have always made real estate decisions, from a process standpoint. Traditional landlords and their capital partners don't afford the speed and flexibility to millennial and gen-Z-run companies that they would prefer.
What has changed, and what millennials and gen-Z employees have demanded, is more flexible real estate space, access to amenities, and a culture that trends more heavily towards hospitality than towards office space. We think this is one of the reasons co-working operators have been so successful. It gives companies the culture they want, with the flexibility that often times can't be offered in any other office space solution.
GlobeSt.com: How has L.A. become such a hotbed for tech, media and entertainment? Will that continue and why?
Harding: Talent, weather, lifestyle and the melding of technology and entertainment. We are still the entertainment capital of the world. All of this has existed here for a century, but nobody tapped into it in this way until the last decade. Growing companies being able to hire and retain talent is a critical foundation for growth in all of these industries, and technology and media/entertainment have never been more closely linked. Southern California offers a lifestyle that will always be desirable. With a strong talent base, we will continue to attract and grow the future.
GlobeSt.com: How has technology changed in recent years?
Frisk: What is changing now in Los Angeles is the venture capital and private equity industries. Funding, both venture and otherwise, has significantly increased here throughout the last market cycle. With the growing popularity of Silicon Beach via the investment world, and as a legitimate alternative to Silicon Valley, companies are now around enough peers, talent and money that growth in Los Angeles is justified. This has changed recently, but it will not stop, regardless of the market cycle.