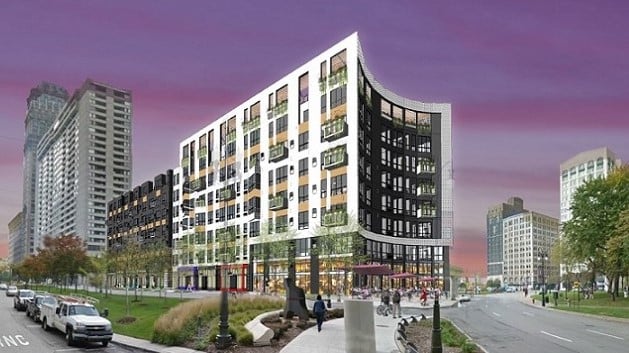 DETROIT—Across the US, downtowns are booming as young workers flood in to take advantage of the lifestyle, and jobs, provided by CBDs. And the Detroit multifamily market has been one of the strongest markets in the Midwest in recent years, recording the region's largest decline in vacancy since 2009, according to a new report by CBRE.
Currently, multifamily vacancy sits at just 3.6% in Detroit, the second-lowest in the Midwest, behind only Minneapolis' 3.0%. The market has seen steady absorption since 2009, as the overall rate declined 483 bps in that time period, the most in the Midwest.
Detroit has been transformed in just a few years. Dan Gilbert's Quicken Loans and its family of companies led the way by buying up dozens of downtown properties, many of them 75 to 100 years old, the type of structure most favored by millennials. These once-underutilized structures now host thousands of workers every workday, and many of these people want to live close to their jobs.
The city's low vacancy has also fueled strong rent growth. Detroit recorded a 6% change in asking rent per unit from 2015 to 2017, making it the third highest rent growth in the Midwest, behind Indianapolis (6.5%) and Columbus (7.1%).
"We have seen a strong interest in the rental market in recent years, especially in downtown Detroit, where we have seen a revival in the office sector," says Jack Johns, first vice president with CBRE. "Workers want to be closer to the office and as jobs continue to grow downtown, more employees, especially those in the millennial generation, will continue to relocate downtown for housing options. Many millennials are now reverse commuting as well to be a part of the re-gentrification of Detroit. With demand still high, we should see more units coming on-line in 2018 and 2019."
Overall, the Midwest markets combined to deliver 32,845 units in 2017, breaking the previous record set in 1999 of 29,739 units. Detroit contributed 1,832 new units in this time period.
According to CBRE, all the Midwest markets have seen positive rent growth between 2015 and 2017.