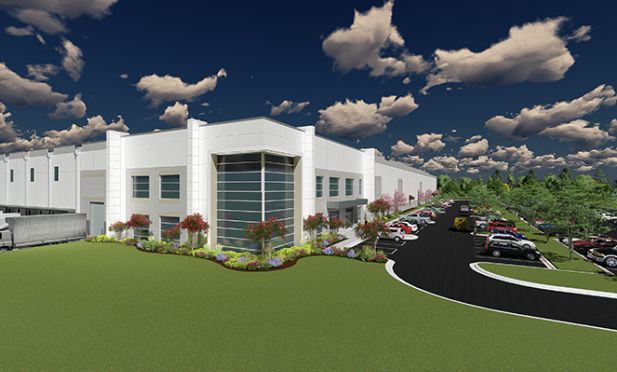 ATLANTA—Industrial warehouse developer PNK Group broke ground on the first industrial building at Southern Gateway at Lambert Farms, a speculative development located in McDonough, GA. The first building is a 1.1 million-square-foot cross-dock distribution facility with 40-foot clear heights.
"Today's users of these big box warehouses are often as concerned about labor as any other aspect in their decision making," Pat Murphy, part of the team at Cushman & Wakefield that has been retained as the leasing team for Southern Gateway at Lambert Farms. "What PNK is providing is a state-of-the-art warehouse, but with employee amenities usually found in office parks, such as a walking trail, foot truck court and electric auto charging stations."
Southern Gateway at Lambert Farms is a labor-focused development. The industrial property will eventually total more than 3 million square feet including an adjacent 1.5 million-square-foot cross-dock building and two rear-load facilities totaling 358,000 square feet and 275,000 square feet.
"Henry County is well recognized as the location for large warehouses that will receive goods from the Port of Savannah, and distribute them from Atlanta to North," Murphy says. "This is a building designed for today's e-commerce user."
Along with Murphy, Ray Stache, Lisa Pittman and Tara Healy of Cushman & Wakefield will handle the industrial leasing assignment. PNK Group is joined by Pattillo Construction Corp., Macgregor Architects & Associates, Eberly & Associates, Contour Engineering, Contour Environmental, Plateau Excavation, Martin Concrete on the industrial project development.