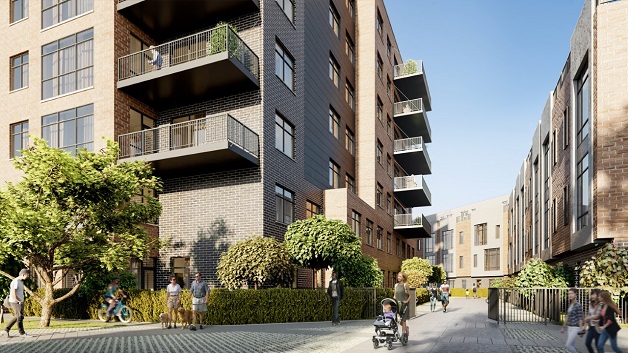 CHICAGO—During Chicago's lengthy apartment boom, developers have been reluctant to break ground on new condo buildings, but things are beginning to change. Officials from Vermilion Development just announced plans to begin sales for Alcove MDP, a condominium and townhome development in the Wicker Park neighborhood. Located at 1648-1650 Division St. just a block away from the CTA Blue Line stop and adjacent to a new mixed-use rental development, Alcove MDP will provide 43 condominiums and 12 townhomes. Named for its location between Milwaukee, Division and Paulina, Vermilion will begin pre-sales in early April and plans to deliver the units by late 2019.
"The timing of this project couldn't be better as we're entering the condominium market just as it's starting to heat up again – giving buyers more options for new-construction," says Dave Cocagne, president and chief executive officer of Chicago-based Vermilion. "As many renters are making the move to homeownership, the condominiums and townhomes at Alcove MDP will be a much-needed addition to this popular neighborhood that is currently underserved for new-construction homes of this caliber."
Buyers can choose between two-, three- and four-bedroom condominium floor plans ranging from 1,400 to 2,400 square feet and priced from $600,000 to $1.1 million. Those prices are significant. In the past few years, high construction costs and strict lending for condos meant most new units were restricted to ultra-luxury buyers. These units, however, will break through the $500 per square foot barrier and appeal to a much larger group of potential buyers. The townhomes will offer four- and five-bedroom floor plans ranging from 2,900 to 3,400 square feet and priced from $1.1 million to $1.3 million.
Luxury Living Chicago Realty and ON Collaborative, Coldwell Banker's development sales and marketing firm, will co-list and co-market the property.
"Alcove M.D.P. will be the first large-scale condo development project in Wicker Park since 2007 and certainly the most unique with a highly curated sensibility," says Aaron Galvin, founder and chief executive officer of Luxury Living Chicago Realty. "We've worked with Vermilion on leasing Viridian on Sheridan, its new luxury apartment building in Lakeview, and know first-hand how much the firm goes the extra mile to design well thought-out, high-end homes that appeal to sophisticated city dwellers. And because of their size and extra wide layout, the townhomes in particular will be a draw for those who want a maintenance-free alternative to single-family homes in this area."
"While we're seeing pent-up demand for new for-sale product across the city, homes near public transit – especially those with direct access to O'Hare International Airport and downtown – are by far the most popular for busy professionals," says David Wolf, president of ON Collaborative. "With Alcove MDP, residents have a unique opportunity to live in one of Chicago's most bustling and creative neighborhoods. Plus, with the proposed Target adjacent to the project, things don't get more convenient. That's something to think about for long-term appreciation."
Vermillion partnered with Chicago-based Hirsch Architects to design Alcove MDP, while Ma'am Design Collective will handle the interiors and the finish selection process for buyers. Maris Construction Corp. will oversee construction.