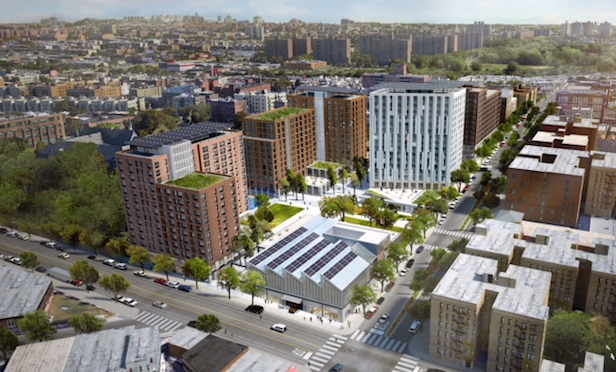 NEW YORK CITY—A $300 million plan to tear down the former Spofford Juvenile Detention Center in the South Bronx's Hunts Point and build a five-acre, live-work, mixed-use campus was approved by the New York City Council.
New York City Economic Development Corporation, the Department of Housing Preservation and Development, and city council member and land use chair Rafael Salamanca Jr. announced the unanimous 48-0 vote that brings the housing and job creation neighborhood one step closer to reality.
Called The Peninsula, the project will begin with abatement, demolition and remediation of the property, followed by construction. The five-building project is scheduled to be constructed in three phases, with anticipated completion dates of 2021, 2022 and 2024.
The Peninsula is an ambitious project extending beyond traditional brick-and-mortar housing. It exemplifies a new model for neighborhood development with industrial jobs, commercial and retail opportunities, health and wellness, and open space recreation—all within a residential community.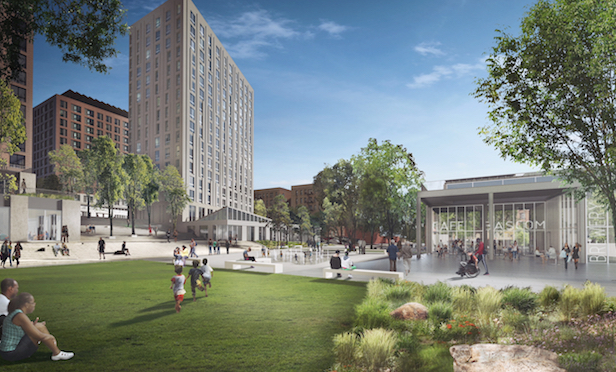 The development includes 740 affordable units with rents starting as low as $396 per month. In addition, the campus will provide 52,000 square feet of publicly accessible open space featuring a new plaza, 50,000 square feet of light industrial space encompassing kitchen step-out space for food business entrepreneurs, 53,500 square feet of community facility space including 15,000 square feet planned for artists' workspace, and 21,000 square feet of commercial and retail space.
With these facilities, The Peninsula will incubate and support homegrown food manufacturing, technology, media production, and commercial and retail businesses in the South Bronx.
Many of the retail, commercial and industrial tenants are Bronx-based organizations and businesses operating in and around the Hunts Point area. This includes Bascom Catering, Hunts Point Brewing Company, Lightbox NY film studio and a supermarket. Nonprofit organizations that will anchor the development include The Point CDC, Space Works and the Bronx Academy of Arts and Dance (BAAD!).
Salamanca tells GlobeSt.com that the campus will also include a 15,000-square-foot early childhood education facility. NYCEDC notes The Peninsula will offer a 16,000 health and wellness center operated by Urban Health Plan. It will connect residents to primary and specialty health care services and employ entry-level health-tech professionals.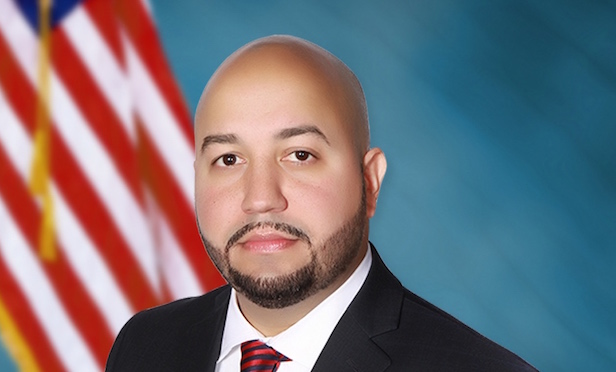 "La Peninsula will be a transformative project for Hunts Point and the South Bronx, adding 100% affordable housing and new jobs while spurring economic growth through the creation of a vibrant hub for my community," says Salamanca.
NYCEDC president James Patchett adds, "The Spofford redevelopment project reflects the core of our mission: to create equitable economic growth for all New Yorkers."
The project will also provide lighting and security around the development, repairing and widening the sidewalk on part of Tiffany Street and hiring a Bronx-based security firm to provide security during the demolition.
Led by Gilbane Development Company, the site will be redeveloped by a team including the Hudson Companies and Mutual Housing Association of New York. The developers have said they are committed to working closely with community stakeholders and groups including The Point Community Development Corporation, Urban Health Plan, Sustainable South Bronx, The Knowledge House, Casita Maria, Rocking the Boat and BronxWorks. The master plan is designed by Body Lawson Associates and WXY.
In addition to praising Salamanca, council speaker Corey Johnson and Bronx borough president Rubén Díaz Jr. for helping the project succeed, Mayor Bill de Blasio thanked "hundreds of community and criminal justice reform advocates, inside and outside of government, who worked for decades to get this notorious juvenile center shuttered."
After over 50 years of operations, the Spofford detention center closed permanently in 2011 and has remained vacant except for a Head Start pre-kindergarten facility operated by the New York City Administration for Children's Services. The center had gained an infamous reputation regarding its conditions and treatment of youth. The de Blasio administration notes its closing aligns with the city's goal to move from a punishment system to a rehabilitative model of juvenile justice.