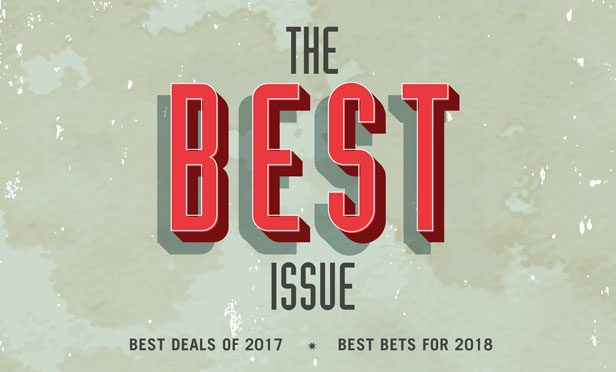 Every year, Real Estate Forum celebrates some of the most significant transactions to take place in the preceding 12 months. Last year proved no less impressive than the ones before it.
From developments with unique elements to attract tenants and massive expansion plans by a handful of tenants (think tech and e-commerce), to complicated sales and financing transactions, 2017 saw it all.
We've put together a collection that is representative of the vast types of deals that closed last year—and the players behind them. From private buyers and REITs to partnerships and foreign capital—activity in the industry came from all fronts, taking advantage of all kinds of opportunities.
Click here to read the Best Deals & Dealmakers of 2017.
ALSO IN THIS ISSUE
Best Bets for 2018 Where's the Smart Money Headed? Savvy industry players discuss where and how they're putting capital to work. Some of their answers might surprise you.
Net Lease Forum New Dynamics in a Stable Asset Class With the new tax code preserving 1031 exchanges, the net lease sector is poised for further growth—in certain categories, that is
Profile Greater Efficiency = Greater Value W. P. Carey's decision to exit the fund management business may seem like a break from longstanding tradition, but evolution is also part of the company's heritage
Developers' Forum Penciling Out Opportunity The time has never been better to be a developer—that is, those who aren't sensitive to rising land and construction costs