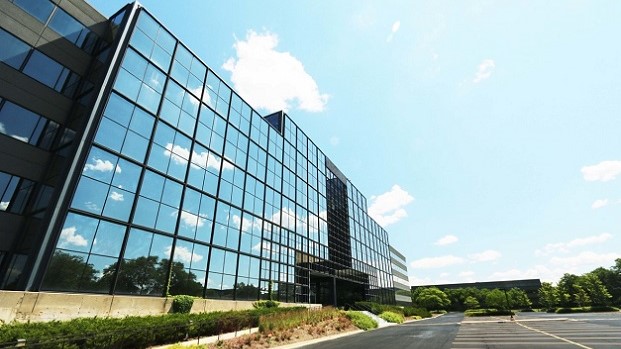 CHICAGO—Franklin Partners, in a joint venture with Bixby Bridge Capital, has just acquired the former OfficeMax headquarters at 263 Shuman Blvd. in Naperville, and plans to redevelop the 350,000-square-foot building as a socially-activated, multi-tenant property. It was initially developed in 1987 for AT&T and is one of many suburban corporate headquarters that needs a redesign to meet the needs of modern tenants.
The new owners have brought Wright Heerema Architects on board for the transformation. They plan to begin construction later this year and complete the work in early 2019. No tenants currently occupy the building, which is centrally located off I-88 with prominent visibility.
"There's an unmet need to deliver an amenity-rich workplace experience in the heart of Chicago's western suburbs," says Ray Warner, partner, Franklin Partners. "We are redeveloping this high-quality class A office building that's been under-utilized for many years to deliver a unique, millennial workforce-friendly destination."
Wright Heerema will redesign the main entrance and atrium with a grand staircase and stadium seating leading down to a bright, airy lower level featuring baristas, a market-style deli, full fitness center, coworking lounges and other amenities more typical of a Chicago high-rise than the surrounding suburban offices.
"Contrary to popular belief, there are plenty of suburban millennials—and they are beginning to demand the same types of workplace amenities as their more urban counterparts," says Roger Heerema, principal, Wright Heerema Architects. "From the baristas and wellness amenities to a foodie-friendly marketplace, we're bringing Fulton Market to Naperville."
The Colliers International team of Francis Prock and David Florent, both principals in the firm's office advisory group, will serve as exclusive leasing agents for the renovated offices.
Franklin Partners and Wright Heerema have redeveloped properties together for more than 15 years in Chicago, its suburbs and in Western MI. For example, at Grand Rapids' 99 Monroe and 25 Ottawa buildings, the team added fitness centers, tenant lounges and a Wi-Fi-enabled interactive lobby, as part of a larger redevelopment that has reinvigorated the city's downtown. Other collaborations in the Chicago area include 980 N. Michigan Ave. in Chicago; 1900 Spring Rd. in Oak Brook; Lake Bluff's Carriage Point medical offices; and 55 Shuman Blvd. in Naperville, just down the street.