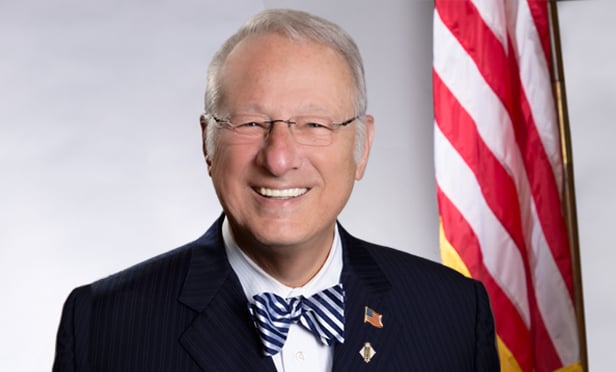 OAK BROOK, IL—It's safe to say that the world of commercial real estate has totally transformed itself since The Inland Real Estate Group hung its first shingle fifty years ago.
Vice chairman of The Inland Real Estate Group and President of Inland Real Estate Acquisitions' Joe Cosenza sees four major watershed moments that served as pivot points for the industry, transforming it—and its practitioners—into the industry and the companies they are today.
It should be noted here that this past year was another bell-ringer for Inland. "I've bought $1.5 billion over the past 12 months," Cosenza reports. "Of that, $950 million was apartments, $400 million was retail and the rest was medical office, net lease and some self-storage, this completes over $45 billion in purchases to date."
First on Cosenza's list of the Top Four is the Tax Reform Act of 1986. "It literally crushed all of the savings and loans," he says, and with it, "the values of almost every type of real estate. Apartments, retail, industrial, none of them were worth what they had been, and virtually no investment was worth the same after October 1986."
So deep was the impact that it would take at least six or seven years for values to return to multifamily, and "at least another five or seven years after that for retail to return."
Milestone Number Two was forged at the hands of Milt Cooper, who the Wall Street Journal dubbed the "Father of the modern real estate investment trust," when he stepped down from his position as CEO of Kimco Realty in 2001. (He had taken Kimco public in the 1990s, thus confirming his parental lineage.)
In so doing, "Milt Cooper showed the entire industry that you could take a huge portfolio of shopping centers with a lot of maturing debt and cure that by putting it into a trust and the New York Stock Exchange," says Cosenza. "It opened the floodgates of real estate investment trusts to stand tall with institutional and individual investors. It changed the industry."
They say that news is whatever affects you. Likewise, many people will overlook Cosenza's third milestone, although it was impactful to Inland. "Sometime around 1997 or '98, sellers started going more to real estate brokers to market their properties," says Cosenza.
And while that might sound like standard practice, he explains, "Before that, sellers would call Inland directly to see if we would buy a property, or if they called a broker, the broker would go to no more than one, two or three people. This led eventually right into mass marketing real estate, causing prices to increase and broadcasting prices and cap rates."
That created increased competition ("We could no longer necessarily get there first," he says), and increased pricing. "Before that, 85 percent of the deals Inland did were from sellers or that broker who came to us immediately. Now I'm down to about 56 percent."
If the increased power of brokerage won't make it on everyone's list, Cosenza's fourth milestone is sure to: "The Great Recession of 2008 and 2009. They call it a recession but it was an absolute depression for real estate. It had the same effect on real estate as did the tax law changes 22 years before that, and probably crushed values more."
"More than any other, it crushed the value of individual houses, condominiums and townhomes," he continues. "It took about 10 years to come out of that drought, that depression of prices, especially for homes." And with the rise of the millennial population, ownership is still a second choice. It didn't help that that cohort, "saw what happened to their parents or their friends."
When asked how the firm maintains acquisition standards through such watershed changes, Cosenza answers simply: "I just don't bend. But, if I'm not going to bend on standards, then something has to give, and what gives is the return."
"For example," he continues, "apartments right now are in demand, so obviously the prices are higher, but that doesn't mean that I'll change my standards of quality and underwriting. But instead of a six percent return to my investors, it might be a five and a half or a five percent return. And if the investors are ok at five percent, I'm still ok."
And what of passing those standards to the next generation? "Dan Goodwin, Bob Baum, Bob Parks and myself are all former teachers," says Cosenza, referring to Inland's four original principals who are, respectively, chairman and CEO; EVP, general counsel and vice chairman; and director.
"That means we never stop teaching," he says. "No matter who comes on board, we always try to teach them and allow them to be the best version of themselves in dealing with people and in their business decisions."
Cosenza himself sends what he calls a detailed "dissertation"—in email form—after he closes a deal, highlighting all the important facts of the deal. He includes how the contact was made and what he originally liked about the asset that drew him in. "It's designed as an educational tool," he explains.
Cosenza notes it has created a culture that underscores the importance of education throughout the organization and has proven to create chief executives, presidents, officers and directors who joined the organization as interns not long ago. "I've watched two executives from our private placement business start as interns and now they lead the company as president and COO and as the chief investment officer. And they are both still under 40!"
Also helping to maintain those standards is a Women's Initiative Network mentoring program specifically designed for women, who make up fully 54 percent of the entire Inland workforce and 41 percent of the leadership team.
One of the most important lessons for any real estate firm is how to survive the milestones and changes in the industry. Mentoring the next generation of leaders is certainly a surefire way to guarantee growth in the next 50 years.