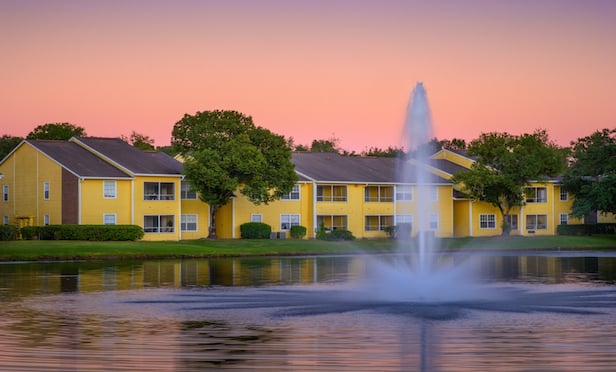 PLANT CITY, FL—A 352-unit nearly fully leased garden apartment community located about 25 miles east of Tampa here has been sold by Mercury Investment for $35.7 million.
The deal for the Plantation at Walden Lake community is a value-add play for the new owner—Bridge Investment Group, according to Cushman & Wakefield, which represented the seller in the transaction. Bridge Investment Group, a privately held real estate investment and property management firm, is headquartered in Salt Lake City, but has regional offices in San Francisco, New York, Atlanta and Orlando.
The 23-building property on 43 acres is 95% leased. Mercury Investment implemented a multi-million dollar capital improvement program that included enhancements to the community's pool and other shared amenities, as well interior upgrades. The remaining un-renovated units, consisting of approximately 88% of the apartments at the property, present a significant value-add opportunity for the buyer, Cushman & Wakefield officials state.
C&W senior director Luis Elorza, senior director Brad Capas and vice chairman Robert Given represented Mercury Investment in the sale of the property located at 1400 Plantation Blvd.
"Plantation at Walden Lake's strong occupancy and potential for further renovation make it an extraordinary value-add opportunity," says C&W's Elorza. "Renovating the remaining units will help the property compete with newer communities nearby, and will significantly enhance revenue."
Plantation at Walden Lake was constructed in phases from 1990 to 1994, and offers a mix of one-, two- and three-bedroom units. The property has 716 surface parking spaces. Among the property's chief amenities include a swimming pool, fitness center, dog park, playground and a picnic and barbecue area.