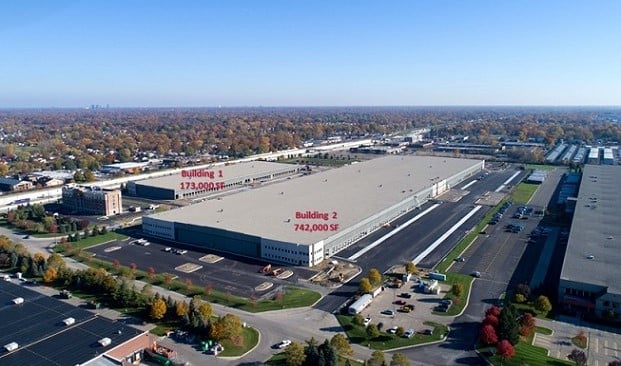 DETROIT—Tenant demand has been tightening up this region's industrial market for years, and at this point, there is very little room to spare. For the 28th consecutive quarter, net absorption remained positive, according to a new report from CBRE. Users absorbed more than 1.6 million square feet in the first quarter, and the average availability rate decreased slightly from 4.0% to 3.82% quarter-over-quarter, the fifth straight quarter it has been below 5%. Furthermore, the average vacancy rate dropped four bps below 2.0%. This is the first quarter that the rate has fallen below 2.0%, an all-time low for the metro Detroit market.
One of the region's strengths in the post-recession years has been its diversity.
"It starts with the auto sector," Peter S. Rogers, first vice president, CBRE, tells GlobeSt.com. Roughly half of the more than 500 million square feet of inventory is dedicated to manufacturing, much of it for the big auto firms and their suppliers, which underwent "tremendous expansion from 2012 to 2016." And although sales have moderated somewhat, they continue at a rate considered high by historical standards.
But 3PLs and other logistics firms now form a large and growing sector throughout much of the region. The Detroit metro now has about 185 million square feet of this space, which handle everything from consumer goods to auto parts, and only 2.1% is vacant. But even a vacancy rate that low has not overheated the market.
Eight buildings were delivered during the first quarter, accounting for more than 1.6 million square feet of space.
"It's just been strong, steady growth, but with limited construction," Rogers says. And very little has been on a speculative basis. "Because there is a lot of discipline in the construction market, we do see a lot of build-to-suits."
Ashley Capital built one of the few speculative projects in the region, a two-building project in Livonia, MI, with about one million square feet. It has had notable success, recently leasing most of the space to Penske Logistics and Experi-Metal Inc.
But Ashley, a national firm, is somewhat unusual for the Detroit area. "We don't have, compared to other cities, large national developers or REITs," Rogers says. And the local firms tend to take their time and make sure proposed buildings will have tenants or buyers ready by the time of completion.
"They are very careful before they pull the trigger. I don't see that changing in the next 18 months."