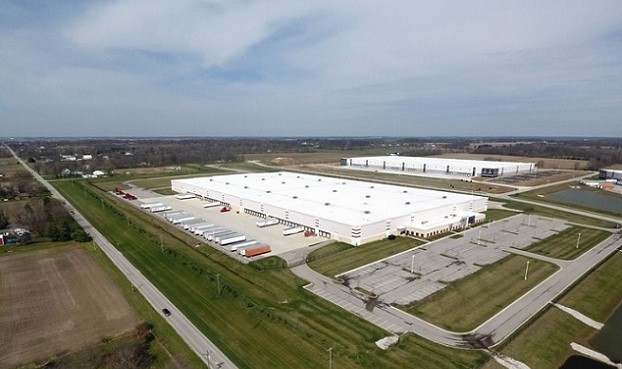 INDIANAPOLIS—The advent of e-commerce has changed the calculations of nearly every company that deals in consumer goods. Most have had to formulate a strategy to get products into the hands of customers with far greater speed. And that has meant boom times for a few centrally-located metro regions. New class A distribution centers have sprouted up around places like Indianapolis, Memphis, Cincinnati and Chicago. And this reconstruction of the supply chain is a long way from finished.
"I don't see any end to it," Jeremy Woods, first vice president of CBRE in Indianapolis, tells GlobeSt.com, especially for his city. "Location really does dictate performance," and most firms that pick Indianapolis will save on transportation costs, and will also have access to a deep pool of labor.
The region's industrial sector is in the midst of a lengthy expansion. According to a report by CBRE, the first quarter continued it streak of 30 consecutive quarters with positive net absorption. The 594,887 square feet of positive net absorption is lower than in recent quarters, but there has also been a healthy level of leasing activity. Developers currently have nearly 4.7 million square feet under construction across 14 buildings, and 55.4% of that space is pre-leased. The market vacancy rate decreased seven bps quarter-over-quarter to just above 5.0%, with most of the vacant space in the modern bulk sector, totaling more than 7.2 million square feet.
Furthermore, CBRE Research is tracking nearly eight million square feet "of active users in the Indianapolis market, so tenant activity is expected to remain strong in the coming quarters."
In the past ten years, Woods adds, developers usually averaged about 3.7 million square feet of new construction, but so what's happening today represents an acceleration. But tenant demand seems strong enough to handle it. In the past 12 months, developers completed 4.3 million square feet in nine projects, and the metro area saw 8.2 million square feet of gross absorption, well above the historical average.
One of the things which sets Indianapolis apart is the vast amount of spec space. Unlike Detroit, which mostly has local or regional developers that concentrate on build-to-suits, "we have a stellar list of global developers that are really entrenched," Woods says, and these firms are confident spec projects will draw tenants. Ten of the current projects underway are on a speculative basis, with a total of about 3.7 million square feet.
In the next 12 months, he says, "from a demand standpoint, I don't think it will be at the level we saw in 2016 and 2017; those were standout years." But it should stay at least near the metro area's historical average, and maybe a bit above that. And a lot of potential remains, largely from the Fortune 1000 firms that still need to reconfigure their supply chains.
"You'd be surprised at how many have thought about it, but haven't done it."