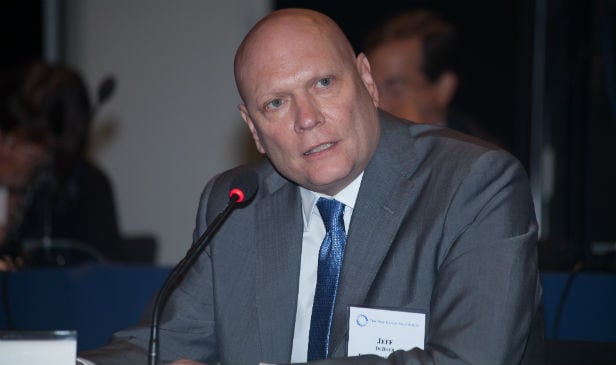 WASHINGTON, DC–Let's state this upfront: with a score of 51, the Real Estate Roundtable's Q2 2018 Sentiment Index was positive overall for commercial real estate. "Real estate fundamentals continue to remain strong into 2018, where balance between supply and demand in almost every sector is healthy, while debt and equity for real estate as an asset class remains abundant," said Roundtable President and CEO Jeffrey DeBoer.
But digging into the sentiment index one finds an undercurrent of anxiety.
DeBoer also acknowledges there are fears about about political uncertainty, trade wars, and interest rate increases, "which are having some impact and creating a manageable amount of uncertainty for the markets for the remainder of 2018 and looking ahead to 2019," he said.
There are a handful of signals in the survey that the industry is growing more cautious. For starters, while any score over 50 is viewed as positive, the Q2 score of 51 is a three-point decrease from the previous quarter. Awareness of the length of current cycle and trepidation about economic conditions in 2019 has led to a general feeling of cautiousness, the Real Estate Roundtable noted. As one respondent said: "Earnings expectations are good, but you feel nervous; we are defying gravity with this cycle." Other comments from respondents highlighted this cautiousness as well.
Asset values are perceived as peaking for the most property types and markets and many survey respondent felt retail assets are overpriced and possibly overbought.
Responders also noted the absence of previously ubiquitous Asian capital this quarter. One said transaction volume has fallen off in core markets, as Chinese and Middle Eastern investors have stepped back. Another predicts that cap rates will decline with the disappearance of foreign (Asian) capital and rising interest rates.
Rising construction costs are another concern. One respondent said that this is playing out in a number of places — "making it harder to pencil new development, increasing the costs of tenant improvements, and increasing the cost of upgrading older buildings."
Another said that equity groups are sitting on a large quantities of dry powder. "The bid ask between buyer and seller is large."
One indisputable bright spot for CRE continues to be the availability of affordable financing and plentiful equity.
Said one respondent: "If you can find the asset, financing it is not going to be your problem."