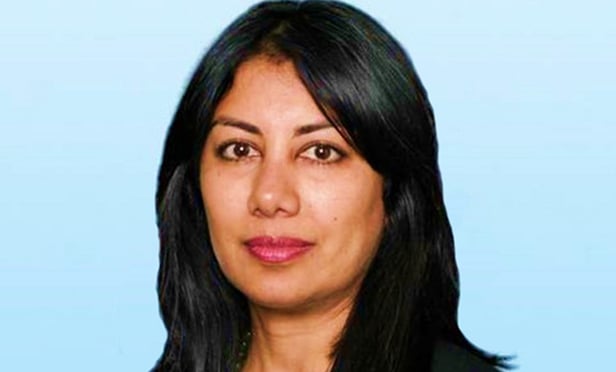 TORONTO—While retail as we know it has been turned on its head during the last few years, the industry has quickly adapted to those changes. Many would argue it is better for the exercise.
One of those in agreement is Anjee Solanki, Colliers International national director of retail services. In this exclusive, she discusses the mixed and augmented reality of retail.
"We are seeing a blurring of the lines from traditional retail to non-traditional, and my statement for the year is retail is now mixed-use," Solanki tells GlobeSt.com. "It's a collision between retail with multifamily, or hospitality or office or medical, becoming the new frontier in urban and suburban markets."
The narrative of retail has changed and although retail co-tenancy is important, higher density along with a variety of product types increases footfall and ultimately sales, she explains. In markets where there are high housing demands, big-box retailers closings is an opportunity to convert to multifamily.
"Commercial real estate must own the live-work-play scenario even more, and it's not just in urban markets," Solanki says. "It is starting to spread in many suburban markets throughout the US."
That change in narrative boasts the question, what are the common shopping patterns and available experiences, and how is technology being used to improve both? The melding of experiences and technology is allowing shoppers to customize the result, she points out.
Retail's omnichannel approach layered with mixed reality will become a part of the day-to-day language.
"Chat bots will become our 24/7 concierge," Solanki observes. "Similar to hospitality, retail chat bots will assist shoppers to make a purchase or educate on the purchase wherever they are, at any time of the day."
Mixed reality will also evoke some interesting digital and e-commerce trends and new solutions. Solanki points to what Yelp has been doing with its augmented reality tool, Monocle, a feature of the Yelp app. Monocle has real-time viewing of nearby businesses via a point of the camera, and users can also see which businesses friends have checked in to.
The map in Monocle view moves when a phone goes from location to location and it overlays ratings of nearby restaurants and bars. It also makes reservations, so there is a convenience factor along with the informed decision. This creates another opportunity for retailers to be found. Many more mixed reality tools are available. Creating awareness through social communities and identifying what the customer is searching for through social sites is the next wave of customization.
"The ability to start socializing with the community about special events and retailer specials is not uncommon, however, what is new is building content or merchandising mix based on what the community is asking for without directly asking them," she says. "How? By analyzing the back-end data collected from various social sites. This can help craft the merchandise mix going forward and benchmark demographic data points. Who's actually clicking? When are they clicking and why? What is the community asking for and demanding in their surroundings?"
The other area that Colliers is exploring is augmented reality. Colliers has partnered with Mandt Media to work on this project in terms of the use of virtual reality space.
That means that the selfie could become more than a mere social media post. With iconic buildings around the world co-starring in many of these selfies, the buildings could be put to work pushing out information to the selfie-taking public as part of an opt-in service, Solanki explains.
This would involve placing virtual devices on these buildings to capture photos and push out advertising for nearby businesses in terms of specials, etc. This would also be a way to get more info on space availability, asking rents, etc. in a similar vein as a marketing flier.
"In this augmented reality, call it a secondary virtual signage opportunity for retailers," Solanki says. "If you're walking by your local Starbucks, you could find out what special drinks are being offered that day and possibly customized just for you. Other virtual branding or advertising opportunities could benefit the building owners as well."
As brick-and-mortar locations become less of a priority, the pace of change in which landlords and tenants evolve their business models is moving faster and more far-reaching than we ever could have imagined. In fact, many of those hopeful ideas in future technology — point of sale (POS) registers, iBeacons, SMART mirrors and robots — are actively in practice today, often complementing a brand's omnichannel strategy.
Historically, retailers and service-oriented businesses have been hyper focused on driving foot traffic to physical locations. And although online shopping is here to stay, Americans are almost evenly split on their preferred shopping channels with 51% shopping online, while 49% prefer shopping in-store.
With that, shoppers have identified another need, given the volume of Amazon purchases and subsequent returns called Happy Returns. "A handful of brick and mortar retailers now allow you to return an item that you purchased online, no questions asked, with an immediate refund of your purchase," Solanki observes. "Kohl's is also accepting Amazon returns even for non-Kohl's purchases. The increase in online shopping has created a challenge but Happy Returns found a solution and an opportunity. Having a Happy Returns in your project just boosted foot traffic. No need for Amazon-staffed centers."
Finally, Solanki points to the Colliers Proptech Accelerator powered by Techstars, launched earlier this year, as another example of the colliding of tech and CRE. The accelerator connects startups with experts around the globe to develop productivity-enhancing, disrupting and innovative technologies in the real estate industry.
The accelerator will run in the fourth quarter of 2018 and applications began in February of this year. This is a first-of-its-kind program that identifies and mentors startups around the globe that are developing technologies in the real estate industry. Startups selected will be hosted in Toronto, Colliers' global headquarters, for an intensive 13-week program focused on the development and acceleration of technology-driven solutions.