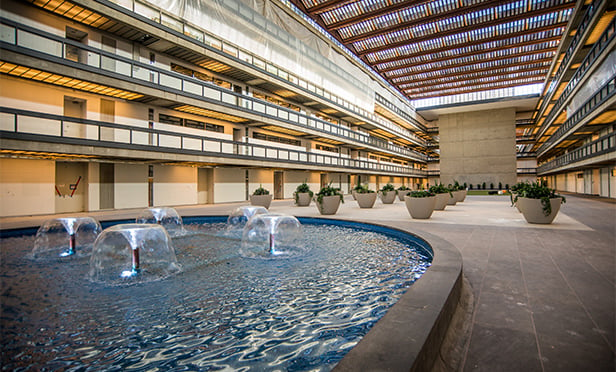 HOLMDEL, NJ—Three new ground-floor retail leases have been signed at Bell Works, Somerset Development's revitalization of the two-million-square-foot former Bell Laboratories in Holmdel, NJ.
The new storefronts will help to shape the building's retail concourse, where Bell Works' quarter-mile long atrium has been reimagined into a publicly accessible destination for shops, restaurants, healthcare, community services, and more.
Newly announced retail tenants at Bell Works include:
City Barn | Country Penthouse, a boutique offering home, bed, bath, and other gift items, in addition to home design consultation services.
Dimension Dental, a premier dental support organization with a network of locations throughout New Jersey and Pennsylvania.
OceanFirst Bank, a community bank offeringcommercial and residential financing solutions, wealth management, and deposit services. OceanFirst is the largest and oldest community-based financial institution headquartered in Ocean County.
Sabre Real Estate Group's team, led by senior vice president Justin Korinis, director Dina Santarelli and associate Sean Pyle is the exclusive real estate leasing agent for Bell Works. Somerset Development was represented by Colliers International in the Dimension Dental transaction.
"It's been incredible to watch the pedestrian street take shape, and the momentum has been especially strong in recent months," says Korinis. "It all stems from a recognition that, even in suburbs like Holmdel, we can create incredibly diverse and captivating urban-style experiences, where visitors and workers alike can encounter a wide variety of retail options in a centralized, urban-style location."
With the addition of the new retail options, Bell Works is continuing its dramatic transformation into what Somerset CEO Ralph Zucker has called a "metroburb"—a self-contained urban environment in a highly livable suburban locale.
The building is already hosting events, from regional networking symposiums to local community gatherings, and the Holmdel Planning Board recently granted Somerset permission to construct a 200-room hotel on the building's roof. Earlier in 2017, Bell Works unveiled a new rooftop deck and lounge, allowing tenants and visitors to enjoy a lunch or coffee break overlooking the property's scenic grounds.
Originally constructed between 1962 and 1964 by world-renowned modernist architect Eero Saarinen, the building is revered for its role in spurring the development of some of the world's foremost inventions and research concepts.
As previously reported by GlobeSt.com, in its 40-plus year history as the research headquarters for Bell Laboratories, Lucent, and Alcatel-Lucent, the building housed seven Nobel Prize winners, including scientists who conceived theories for the laser, the Big Bang theory, cellular technology, the transistor, and more.