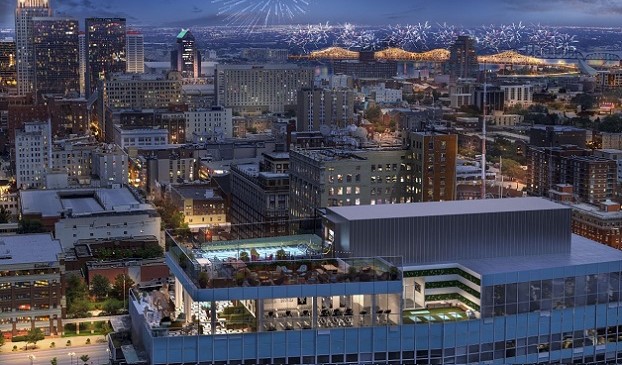 LOUISVILLE—The rising rents in many of the nation's gateway markets, along with escalating construction and labor costs, have led many firms to seek out less expensive spaces in secondary cities. And according to first quarter research from CBRE, the Louisville office market's overall asking rental rate is the second lowest in the nation.
Overall asking rents for all building classes across the metro area came in at $17.58 per square foot, behind only Albuquerque ($15.59) and lower than third-place Cleveland ($18.29). Nationwide, Louisville has the third most affordable downtown office market and the fourth most affordable suburban market, which have average asking rates of $16.93 per square foot and $18.18 per square foot, respectively.
"We have seen several national groups that have landed here, or are looking here," says David Hardy, managing director of CBRE's Louisville office. Hogan Lovells, a global law firm based in London and Washington DC, recently decided to locate its second global support services center in Louisville, its first in the US.
"Technology is making it easier to support many aspects of your operation from anywhere," Hardy says. And the lower costs of Louisville make it an attractive choice. He attributes the lower overall costs to the region's lower taxes, as well as the lower costs of labor, including more affordable janitorial services, landscaping and accounting.
But there is more to Louisville than lower costs. As reported in GlobeSt.com, younger people now want to live downtown, and developers have begun renovating historic structures to create new luxury apartments and hotels. The March opening of the new $315 million Omni Hotel complex is the best example of the CBD's direction. "Overall, the appeal of our market is better than it's ever been," Hardy says.
"We have not seen significant fluctuations in the market in the last several years," he adds. "With the exception of newly constructed class A suburban buildings, which are commanding $8.00 to $9.00 per square foot above the average asking rate for all classes of suburban buildings, rents have increased at a gradual rate of 9.3% over the past three years in the suburban market. The CBD rents have been within $0.50/square foot of the current average for the past 10 years."
However, he believes companies may want to consider getting into Louisville sooner rather than later. "It's a bargain now, but it might not be a bargain for long."