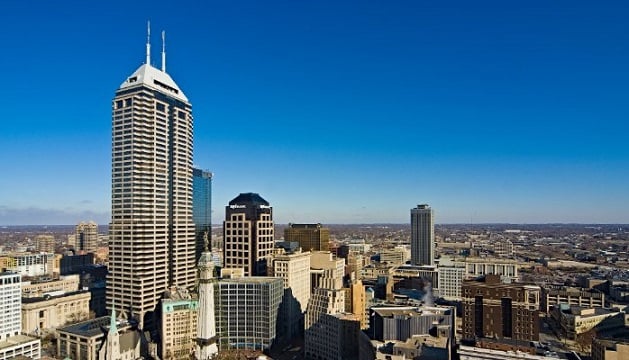 INDIANAPOLIS—The overall business climate has been very healthy in this metro area, and helped along by an expanding tech sector, its office market vacancy rate ended the first quarter at 15.7%, a drop of 30 bps since the end of 2017, according to a new report by Colliers International. Furthermore, positive direct net absorption in both CBD and suburban markets boosted total occupancy, and asking rental rates posted the highest year-over-year percentage increase on record for the second consecutive quarter.
The downtown vacancy rate just hit 15.3%, the lowest vacancy rate since 2009, and direct asking rents increased to $21.67, surpassing all other submarkets in year-over-year rent growth. The importance of the downtown tech sector was shown by in-building expansions at The Marott Center and the Guaranty Building by HomeAdvisor.com and Cheetah Digital, respectively, which contributed to positive year-to-date direct net absorption of 58,292 square feet. ANGI HomeServices lnc. took 65,000 square feet in 130 E. Washington, the largest new lease in the CBD. "Repositioning of under-performing assets into hotels and multi-family is also aiding a strong and competitive CBD market," Colliers notes.
The suburban office markets surrounding Indianapolis have not suffered the elevated vacancy rates seen in other metro like Chicago. And with the region's unemployment rate sinking to just 3.0%, it's no surprise the suburbs are seeing a healthy amount of activity.
Colliers attributes the suburbs' 113,244 square feet of positive direct net absorption to new information technology and customer service jobs. The largest expansion, a 106,477 square foot lease by GEICO, helped make up for the downsizing of Technicolor in Carmel. The insurance giant's $16 million expansion will add 1,500 IT and customer service jobs by the end of 2022.
"Similar commitments by ThyssenKrupp in Fishers, Sallie Mae in Woodfield Crossing, and Liberty Mutual in Parkwood pushed the direct vacancy rate for the suburbs down since the end of 2017," Colliers notes. "Asking rents continued their upward trajectory along the northern I-465 corridor, and massive new owner/occupant and mixed-use construction projects are in the pipeline, making for a vibrant suburban market in the coming quarters."
Investors have definitely noticed the upticks in the office market. Chicago-based Hearn Co. made significant upgrades to the lobby and amenity space of BMO Plaza after buying it in 2016, and as reported in GlobeSt.com, recently sold it for $70 million to Miami-based Black Salmon and its general partner REDICO. On the north side, M&J Wilkow entered the market by purchasing Two & Three Meridian Plaza, while Tempus Realty Partners acquired College Park Plaza less than a year after purchasing One College Park.