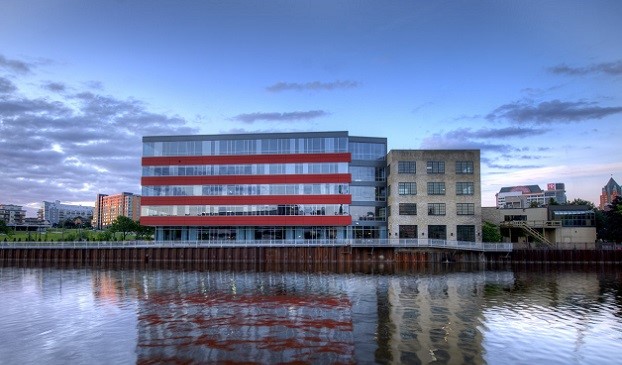 MILWAUKEE—Co-working providers have in many ways become the engine of the US office economy, especially in gateway cities. But secondary cities have also seen tremendous demand for these types of services. And Milwaukee just became the latest to attract a national co-working company.
Spaces, a pioneer in creative, flexible workspaces, signed a new 43,000-square-foot lease at 1433 N. Water St., its first Milwaukee location. It will join Bader Rutter and Riverwater Partners at the building, a historic renovation by Wangard Partners on the city's Riverwalk pedestrian walkway.
John Mazza and Alyssa Geisler in CBRE's Milwaukee office represented Wangard Partners in the new lease with Spaces. They are currently marketing the building's remaining 3rd floor office space for lease. Michael Streit and Patrick Savoie from JLL represented Spaces.
The deal is not just a win for Wangard, it's a win for the city.
"Co-working providers bring a lot of flexibility to a market," Stu Wangard, chairman, founder and chief executive officer of Wangard, tells GlobeSt.com. For one thing, "they provide spaces for existing firms to grow." And if Facebook or Google decide to expand operations, "they can immediately come into the market, and in one day, plug into a co-working space and be up and running."
Furthermore, more firms now express a reluctance to lock themselves into lease which lasts 10 to 15 years. A co-working lease, however, could last just a few years or even weeks.
Tech firms and entrepreneurs have been especially intrigued by co-working, partly because few of them know just how fast they will grow. But "it's not just tech firms. We now see law firms and accounting firm using these spaces."
Spaces specifically designed its Milwaukee offices to meet the needs of a variety of business models and growth stages by offering a wide range of creative, flexible workspace options. It will feature a business club, allowing members to work and interact, along with private offices and dedicated desks. Members will also have access to fully-equipped meeting rooms, a rooftop patio as well as other amenities and networking events.
The site itself originally had two structures, one from the 1930s, and another from the 19th century. Wangard demolished the latter and replaced it with a glass and steel office totaling 115,600 square feet. With its lease on the fourth and fifth floors, Spaces will have space in both the existing and new portions of the project as well as a rooftop patio.
Wangard says the downtown has attracted a number of game-changing projects. In addition to the Riverwalk, the Milwaukee School of Engineering recently received a $34 million gift to launch a program in artificial intelligence, the first of its kind in the nation. Biggest of all, the new Wisconsin Entertainment and Sports Center, a $524 million combined sports arena and concert venue, will soon open.
"It's a neighborhood where a lot of good things are happening."