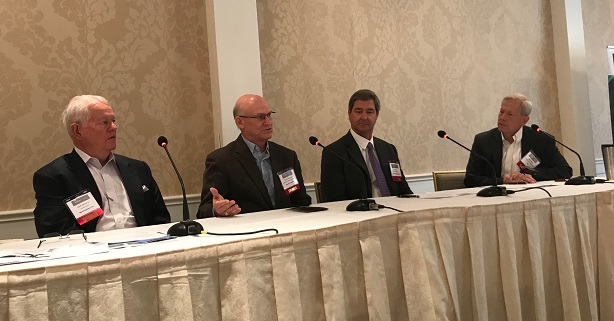 DALLAS–Locally-based Granite Properties likes diversification, which is why it is has a project in East Cambridge, Mass. It has been working on it for six years and is probably a year away from starting, says David Cunningham, senior director of Development & Construction. In that same six years, the company has developed 3 million square feet in Dallas Fort Worth and Houston. The contrast is telling, he told the audience at RealShare Dallas yesterday morning. "You have to ask yourself, 'where is the best place to put your resources.' A place where it is easy to do business, or very hard?"
Cunningham was a speaker on the first panel discussion of the morning, along with fellow panelists Jim Graham, executive managing director Newmark Knight Frank, Clyde Jackson Jr., chairman and CEO of Wynne/Jackson Inc. and moderator Walter Bialas, vice president and Director of Research for JLL. The topic: what has been fueling Texas' phenomenal growth in commercial real estate.
The answer: an unprecedented wave of job growth. But there is more to the story than just these robust numbers. With every rise in the cycle comes a decline and despite how well Texas' commercial real estate sector is doing now, it is not too early to start wondering about the dip.
"Are there any black swans out there that will impact our growth? Graham said rhetorically. "We can't keep growing the way we have been. Things don't always go up."
What Job Growth Has Delivered
For the last five to six years Texas has created 100,000 new jobs a year. It is a staggering number by any measure and it has had an indelible effect on the state's — and particularly the Dallas-Fort Worth area's — commercial real estate sector. This period is the first time in 38 years that the market has seen real institutional rent growth that is in excess of replacement cost.
For decades, Dallas lived under the oppressive umbrella of what the state over produced in the 1980s. There was a staggering amount of growth then and it took 20 years for the development of that period to burn off, the panelists said.
"Now we are seeing real rent growth, we are seeing institutional investors come back," Jackson said. "It has affected all property types but certain the office asset class."
Why Businesses Come To Texas
Businesses come to Texas for that reason — but there are other factors as well, Jackson said. The lower cost of living and the highly-attractive tax structure are two very important reasons. The light-touch regulation, as Cunningham noted, is also a welcome relief to businesses that have seen projects and products stymied in other states.
The Problems Of Growth
There are some signs that the state cannot absorb so much growth without a few hiccups. For example, the cost of living is low but costs are rising, especially construction materials, which is a nationwide issue. "Builders are having problems pricing houses in the sweet spot of the market."
Another issue — one that is also playing out nationally — is the question of whether labor availability will be able to keep up with growth demand. "Maybe costs could kill the golden goose but we think it will be availability of good skilled employees," Graham said. "We absolutely must continue to bring in young people who are highly educated." Likewise construction workers, Jackson added.