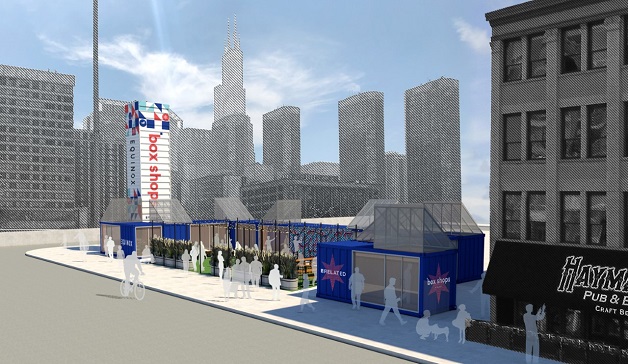 CHICAGO—Most experts from the retail world say operators and landlords need to think creatively to respond to the advent of e-commerce. Related Midwest, a Chicago-based developer, will in June start just such an experiment. It will open "Box Shops by Related," a pop-up container market that will feature local businesses and be anchored by Related Midwest and Equinox, a lifestyle, fitness and wellness brand affiliated with Related Cos.
Located at 725 W. Randolph St., where Related Midwest plans to build a 370-unit mixed-use tower featuring the Midwest's first Equinox Hotel and a 30,000-square-foot Equinox health club, Box Shops by Related marks the developer's first collaboration with Chicago-based Latent Design.
"We are thrilled to bring this retail experience to Chicago in an effort to enhance the community and support area businesses, including everyone from independent artisans to world-class brands like Equinox," says Curt Bailey, president of Related Midwest. "As the gateway to a neighborhood that recognizes and appreciates creativity, 725 W. Randolph is the perfect place to showcase our city's thriving community of entrepreneurial retailers."
The market will use Latent Design's Boombox concept, 160-square-foot micro buildings housed in former shipping containers. The containers, which cost as little as $1,000 a month to rent, provide a brick-and-mortar opportunity for retailers, but with more flexibility than a storefront.
Vendors scheduled thus far for the June opening include; Kido Chicago, maker of eco-friendly kids clothing; digitalKENTE, maker of vibrant graphic-patterned athletic wear; ReformedSchool, a brand combining art, fashion and eco-friendly materials to create bow ties, tote bags and home goods; and Some Odd Pilot, a creative agency and gallery.
Box Shops by Related will feature a multi-sports court behind the containers sponsored by Equinox, which will also use the space to host fitness classes open to the public. The company will also have its own container that will recreate one of its fitness clubs. Other features of the container market include a courtyard with multiple seating areas; a beer garden from Haymarket Pub & Brewery; and a 40-foot mural by Chicago-based visual artist Lefty Out There (aka Franco Campanella).
The market will open on Friday, June 15, with daily hours from noon to 10 p.m. It will remain open through the end of 2018.