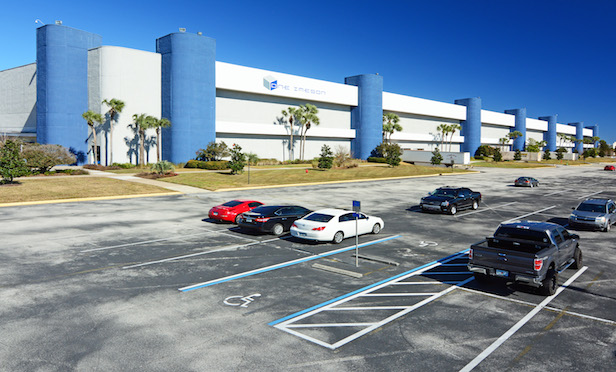 JACKSONVILLE, FL—Arsenault Holdings, LLC of Louisville, CO has acquired a 1.7-million-square-foot office and distribution building here for $47.75 million.
The two-story One Imeson Distribution Center building is considered the largest commercial building in Jacksonville. A team of vice chairman Mike Davis, senior directors Karl Johnston and Tyler Newman, executive director Rick Brugge and executive director Michael Lerner with Cushman & Wakefield's National Industrial Advisory Group brokered the deal for the seller GIV Imeson, LLC.
The transaction involves not only the building but the entire 72.5-acre site that includes a 12.3-acre container storage area, as well as a future development site covering 24.2-acres that could accommodate expansion and/or future build-to-suits within the park, C&W officials note.
A total of 85% of One Imeson or more than 1.4 million square feet is industrial space and the remaining 15% or 248,317 square feet is for office use. At the time of the sale the property was 74% occupied.
Among its notable tenants include: Bacardi, General Dynamics, Komyo America (Honda), Venus Swimware, the Jacksonville Supervisor of Elections and Samsonite.
"This two-story distribution center boasts an exceptional national tenant roster and strong upside potential," says Cushman & Wakefield's Davis. "With additional development land, outdoor storage, as well as quality back office space, One Imeson is positioned to accommodate a variety of industrial or office uses well into the future."
The property is located within Imeson Industrial Park in the active Northside industrial submarket, which accounted for 90% of all absorption in the Jacksonville market during the first quarter of 2018.
One Imeson was built in 1974 and was last renovated between 2012 and 2015. Improvements included an entirely new roofing system, new chillers, lighting upgrades and cosmetic improvements.