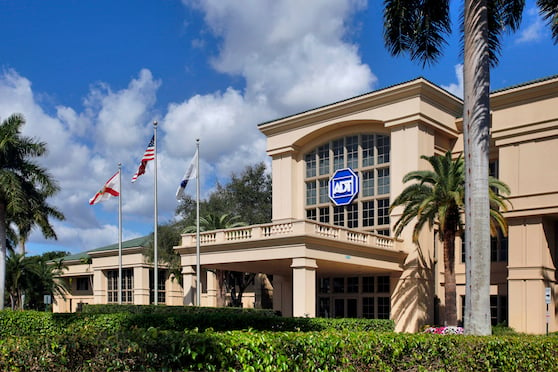 BOCA RATON FL—A newly formed joint venture between locally-based PEBB Enterprises and Tortoise Properties of Chicago has purchased the ADT headquarters property here in a deal valued at $42.05 million.
The property on Yamato Road is currently home to ADT's global headquarters and totals 171,489 square feet. The property was sold by Philadelphia-based RAIT Financial Trust.
ADT has occupied the property since 2011 and replaced major tenant Washington Mutual, which vacated the campus in 2008, according to published reports. Home security firm ADT has five years remaining on its lease at the property that is situated on 10 acres of land adjoining the golf course the Old Course at Broken Sound.
The Cushman & Wakefield capital markets team of Scott O'Donnell, Dominic Montazemi, Mike Davis, Greg Miller, Rick Brugge and Michael Lerner negotiated the sale on behalf of RAIT Financial Trust. Jason Hochman, of Cushman & Wakefield's equity, debt & structured finance group, assisted the PEBB/Tortoise team in securing a $28.6-million, on-recourse loan with a low-interest rate loan.
"We've been actively pursuing this deal for quite some time but were looking for the right partner which we found with Tortoise," says PEBB president Ian Weiner. "The demographics, location and proximity to the evolving Park at Broken Sound, a 700-acre, mixed-use park, made this acquisition highly desirable for our new joint venture and we hope to find more opportunities together."
Tortoise CEO Jake Geleerd adds, "This asset meets all of our investment criteria—great market, well located, long-term appreciation potential and most importantly a great local partner.
The two executives say they became acquainted last year through their respective involvement in Young Presidents' Organization. Geleerd is active in the Chicago and Denver YPO chapters, while Weiner is in the Palm Beach chapter. They were fist introduced on a YPO Deal Network call.
PEBB has stated its desire to reinvest capital closer to its South Florida home and has sold off a number of out-of-state assets over the last 12 months. In April, PEBB Enterprises announced it had closed on four separate disposition transactions to four different buyers, totaling more than $50 million. Those deals included the sale of two successful redevelopment projects, a standalone box in Ohio and a single tenant retail building in Coral Springs, FL.
The purchase of the ADT headquarters in Boca Raton signifies the beginning of its capital redeployment effort, the company states.
"We're ramping up a joint venture equity program which will enable PEBB to leverage our vertically integrated platform and commercial real estate investment expertise to find and create value for ourselves and for strategic partners like Tortoise. We're aggressively sourcing new investment opportunities that offer compelling risk-adjusted returns in today's marketplace," says Rob Truett, PEBB's chief investment officer. "And we hope this acquisition is the first of many to partner with Tortoise."