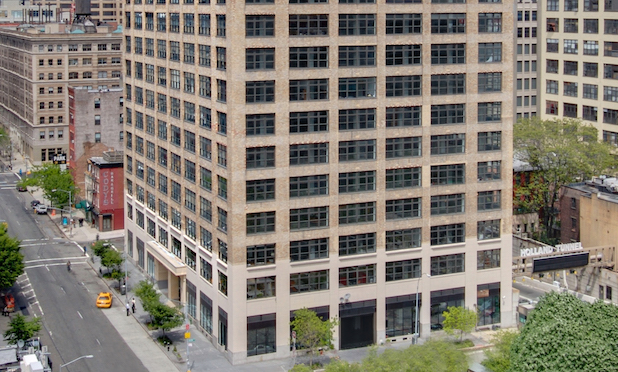 NEW YORK CITY—Even as TAMI (technology, advertising, media and information) companies take root across Manhattan, in places such as the Financial District, Midtown and Hudson Yards—the Hudson Square neighborhood is maintaining a foothold in the creative sector.
The marketing and advertising agency Mekanism, Inc. has signed a 10-year lease with Jack Resnick & Sons for 27,780 square feet of office space at 250 Hudson St. They will occupy the entire second floor of the 15-story, 400,000 square-foot building. The Hudson Street building is situated between Broome and Dominick streets, located near SoHo, TriBeCa and Hudson River Park. Asking rents were in the high $70s per square foot.
Mekanism is expected to relocate in early 2019. Its current office is in a 36-story tower built in 1935, located at 80 Broad St., between Stone and Marketfield streets.
Founded in 2003 and headquartered in San Francisco, Mekanism has won more than 50 international industry awards. Its clients include Ben & Jerry's, HBO, MillerCoors, Facebook and Charles Schwab.
"As a long-term owner in Hudson Square, we recognized the neighborhood's potential as a hub for creative tenants, and that our buildings were ideally suited for these companies in both function and character," says Jonathan Resnick, president of Jack Resnick & Sons. "Mekanism is a great example of what we envisioned for this former printing building when we set out to reposition it a decade ago."
Although constructed in 1929, after renovations, 250 Hudson is LEED Gold and WiredScore Platinum certified. The owners modernized the infrastructure including electrical and communication systems. With a limestone and marble lobby, high ceilings, open floors, a penthouse level with a 10,000 square-foot green roof, the building embodies the strategic marketing of Hudson Square to TAMI tenants.
The area initially attracted start-up and TAMI companies due to its older building stock offering lower rents. It eventually established an association with the sector as referenced by Resnick. More than 50,000 professionals in the TAMI industries work in Hudson Square, according to Jack Resnick & Sons.
Jason Harris, CEO at Mekanism, pointed to the renovated building's features that suited the company's needs.
"When looking for a new space, it was imperative for us to have one large open footprint that would foster collaboration and creativity for our rapidly growing company," says Harris. "It's a world class building run by a great family and we're looking forward to moving in."
Other tenants in the building include Bed Bath & Beyond, Daniel J. Edelman, Gluckman Tang Architects, Sopexa, Lieff Cabraser Heinmann & Bernstein and Writers Guild of America East.
David Rosenbloom of Cushman & Wakefield represented Mekanism. Brett Greenberg and Adam Rappaport of Jack Resnick & Sons represented the company in-house. Resnick is currently marketing remaining available space at 250 Hudson St. This includes 20,000 square feet on the third floor, and 5,500 square on the seventh floor.