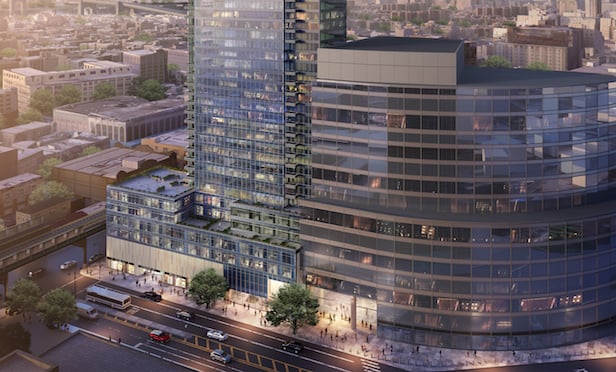 NEW YORK CITY—The development team led by Chris Xu's United Construction & Development has closed on a $502-million construction loan from JP Morgan and a syndicate of other lenders for its proposed 67-story mixed-use building in Long Island City.
The financing was provided by JP Morgan and a syndicate of domestic and international banks and was brokered by Meridian Capital Group of New York City. Morris Betesh, a financing broker at Meridian Capital Group, negotiated the construction loan for the project that will feature 802 luxury condominiums and ground floor retail space. The borrower was represented by attorney Herrick Feinstein, LLP.
A spokesperson for Meridian Capital says the financing deal represents the largest loan ever for a private project in the borough of Queens.
Prior to construction, the development team had secured an initial $100-million land loan from the Bank of China. Xu acquired the site in July 2015 for $143 million, according to the Real Deal. The project, when completed, will be the tallest residential building outside of Manhattan. The development group began foundation work on the tower late last year.
The Court Square City View Tower project at 23-14 44th Drive is being developed by Xu's United Construction & Development and partners Henry Yeung, Brian Pun of FSA Capital and Risland U.S. Holdings, LLC. Long Island City brokerage firm Modern Spaces is exclusively handling marketing and sales for the project.
The building was designed by New York City-based architecture firm Hill West Architects, with interiors by its design arm, Whitehall Interiors.