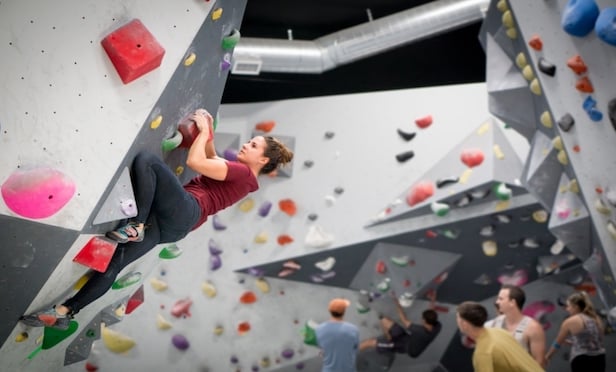 NEW YORK CITY—West Coast rock climbing and fitness company VITAL Climbing Gym is entering the New York City and East Coast markets and will open next year a 46,000-square-foot facility on Nassau Avenue in the Williamsburg section of Brooklyn.
VITAL Climbing, which currently operates three locations in California (Oceanside, Murrieta and Carlsbad) and one in Washington state (Bellingham), has signed a 15-year retail lease for 46,000 square feet of space and will occupy the entire building at 1 Nassau Ave., according to brokerage firm CBRE, which represented the tenant in the transaction.
The Brooklyn facility, a former warehouse, will be the largest climbing gym in New York City when it opens in the summer of 2019.
"We're excited to become part of the New York climbing community. People come to VITAL to challenge and open themselves up to a world of new experiences," says David Sacher, co-founder of VITAL. "Our gyms buzz with life and excitement. Evenings are packed with young adults building relationships, kids on our climbing teams discover what it's like to leave the ground, while our oldest members stay strong against the ever-increasing pull of gravity. We design our spaces to reflect this energy—clean, open, bright, full of conversation, creativity and life."
CBRE's Michael Kadosh, Lon Rubackin, and Jesse Wolff represented VITAL in the transaction, while the landlord, 1 Nassau Owner LLC., an affiliate of Cayuga Capital, was represented by Keat Chew and Harrison Balisky, who were brokers with EXR at the time of the transaction.
"Climbing gyms are now massively popular hubs for millennials. VITAL is a unique concept in fitness, open 24 hours a day for members, and will also offer full health club amenities including fitness equipment, yoga, spin, and aerial silks classes.," CBRE's Kadosh says. "VITAL will undoubtedly be a meaningful addition to the neighborhood."