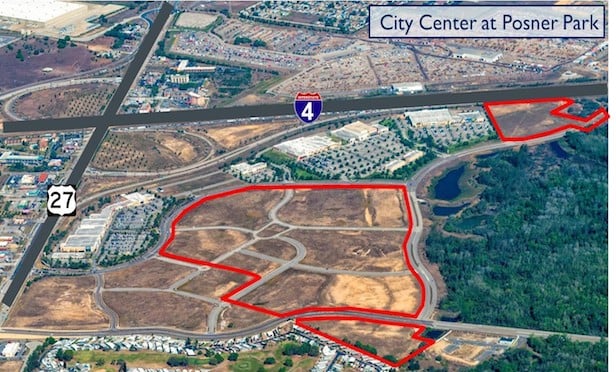 DAVENPORT, FL—Fort Lauderdale-based BTI Partners is putting its 100-acre Posner Park development site here on the market for sale.
Posner Park is a proposed 130-acre mixed-use development property located at the interchange of I-4 and US-27 in Polk County. BTI has hired Cushman & Wakefield to market the 100-acre site. In 2017, BTI sold 30 of the 130 acres to Intram Investments Inc., an Orlando-based real estate development and restaurant investment company. Intram plans to build approximately 200,000 square feet of retail space at the property. Future prospective tenants at the Intram property include Marshalls, Party City, HomeGoods, Ulta and Tuesday Morning.
The developed portion of Posner Park contains more than 600,000 square feet of retail that includes such tenants as: Target, Best Buy, Dick's Sporting Goods, Ross Dress for Less, Michaels, and a Cinepolis IMAX Theater.
BTI also reports it has obtained a $12-million loan secured by the 100-acre property from Florida Community Bank. A spokesman for BTI tells Globest.com that while the 100-acre parcel is on the market for sale, BTI still could possibly be involved in the development of the property. The spokesperson says, "BTI is considering all options, including selling the entire site, selling portions of the site to different buyers and possibly partnering with some of them to co-develop."
BTI expects the entire mixed-use project to be completed in two to three years. BTI acquired the mixed-use development site in 2015.
"Orlando is growing at a rapid pace and as development moves to the edges of the Orlando metro area, we have been receiving a strong number of inquiries from multifamily, vacation homes, and limited-service hotel developers and operators," says Noah Breakstone, managing partner of BTI Partners. "We decided to bring Cushman & Wakefield on board to market and identify the best potential buyers to partner with us in the build out the Posner Park's mixed-use community."