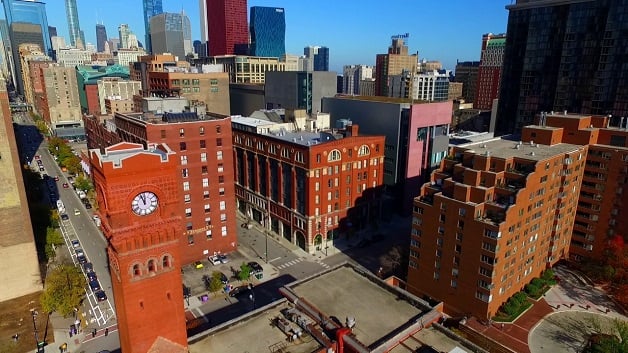 CHICAGO—The downtown area has filled up with thousands of student housing units, but the extraordinary demand for multifamily housing has added another factor to local universities' real estate calculations. Columbia College, for example, has just sold its landmark 731 S. Plymouth Ct. building to 3L Real Estate, a developer of vintage residential properties. Cook County records show the new owner took out a $21 million mortgage on the property.
3L Real Estate plans to lease the seven-story, brick and stone building back to the school, which has used it for student housing since the early '90s, for one year to house roughly 350 students. Afterwards the developer will convert its units into a collection of one-, two-, and three-bedroom apartments.
"Columbia over the last 20 years has bought a lot of property," Tyler Hague, a vice president of Colliers International, tells GlobeSt.com. And Colliers has helped the school analyze its portfolio to see if it made sense to unload underutilized buildings. "We've sold three assets for them in the past year." Columbia also recently sold the former Johnson Publishing Building at 820 S. Michigan Ave. to 3L Real Estate, which plans to covert that landmark into rental housing as well.
"There is a certain charm that differentiates a property like 731 Plymouth," Hague adds. As a designated National Historic Landmark built by noted architect Howard Van Doren Shaw in 1897, "it's one of the most aesthetically pleasing buildings in the city." And that holds special interest for developers like 3L because adaptive reuse projects can satisfy the thirst for beautiful downtown apartments at a much lower cost than new construction. "This is a growing trend. Adaptive reuse is at the top of the list for investors."
He also expects the downtown colleges and universities to look favorably on sale-leaseback deals that monetize their properties but continue to help the schools meet students' needs. Furthermore, if the student population living downtown declines, the new owners of the CBD's many dormitories can also run them as multifamily properties that cater to both students and other renters.
3L plans to make the necessary improvements and updates to the existing kitchen, baths and living rooms in 731 S. Plymouth.
"Both as proponents of historic restoration and adaptive reuse, all of us at 3L are excited to preserve and improve another building that is unique to Chicago and its rich architectural legacy," says Joseph Slezak, chief executive officer of 3L.
Currently undergoing renovation and scheduled to be available for delivery in the summer of 2019, the Johnson Building will feature 150 studio, one-and two-bedroom apartments with monthly rents available for under $1,500.