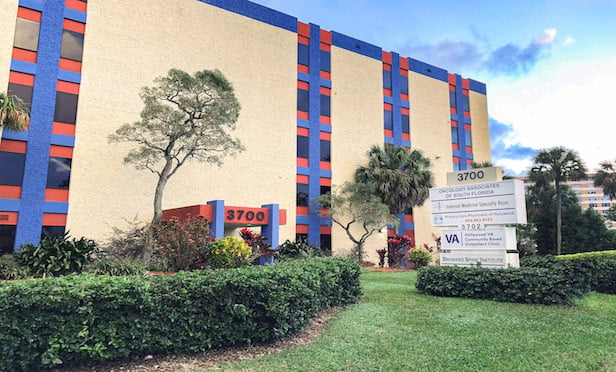 HOLLYWOOD, FL—SF Partners of Miami has sold the Hollywood Medical Office Building here for $199 -a-square-foot in a deal a broker involved in the deal says presents the new owner with a "rare value add" in this market.
The 57,815-square-foot facility on the campus of Memorial Regional Hospital was purchased for $11.5 million by an unnamed private real estate investment firm.
Cushman & Wakefield brokered the transaction. The Cushman & Wakefield capital markets team of Scott O'Donnell, Greg Miller, Dominic Montazemi, Miguel Alcivar and Jason Hochman along with office leasing expert Donna Korn negotiated the sale on behalf of SF Partners.
The five-story Hollywood Medical Office Building at 3700 Washington St. was developed in 1975 and sits on nearly two acres located approximately one-half mile west of Interstate 95 between the Hollywood Boulevard and Pembroke Road interchanges. The property, along with Hollywood Medical Plaza II, is one of only two medical office buildings on the 280-bed Memorial Regional Hospital South campus.
"This building represented an incredibly rare value-add opportunity for investors to acquire a strategically located, on-campus medical office asset offered well below replacement cost," says C&W's O'Donnell, whose team also negotiated the sale of the building to SF Partners in 2015. "SF Partners has done a great job of improving the building and net operating income since they acquired it and there is still significant room for upside given the asset's current vacancy and promising projections for the growth of medical office visits."
The Hollywood Medial Office Building was 84% occupied at the time of sale. Notable tenants include: Oncology Associates of South Florida, Pinnacle Healthcare System, Reyes & Reyes MD, Internal Medicine Specialty and HealthCare Support Administrators.