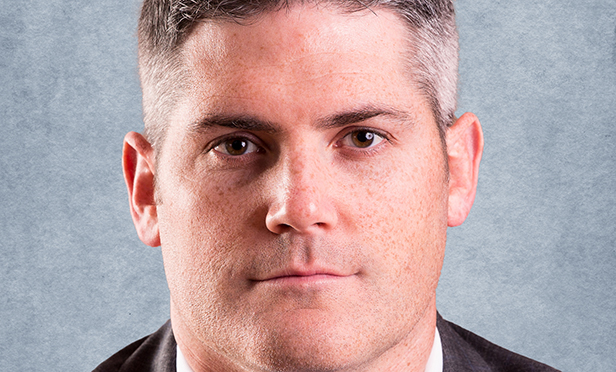 CALABASAS, CA—In a way, 2018 could be seen as a period of adjustment for the seniors-housing market. According to Adam Lewis, national director of seniors housing for Marcus & Millichap, many cities are experiencing higher than normal vacancies as a flood of new facilities come online.
But for a commercial real estate sector that is perennially resistant to local and national market shifts, this is a temporary scenario that will correct itself by the time the new year rolls around. This healthy projection is further buoyed by the degree of interest Lewis and his team are hearing from clients around the nation. As a result, Lewis reports: "Our outlook is very positive."
By The Numbers
Without question, the current national vacancy rate has spiked a developers' rush of new facilities to market. "New construction nationally is six percent over and above existing inventory," he tells GlobeSt.com, "and that's just year-to-date."
And that's the national average. Lewis reports that in red-hot markets like Phoenix, the percentage spikes to 18%, and Austin, TX, surpasses even that. But he is quick to add that the top five markets—those MSAs with greater-than eight percent new construction—are more than equipped to absorb the new inventory and are on track to do so by the end of the year. (See chart.)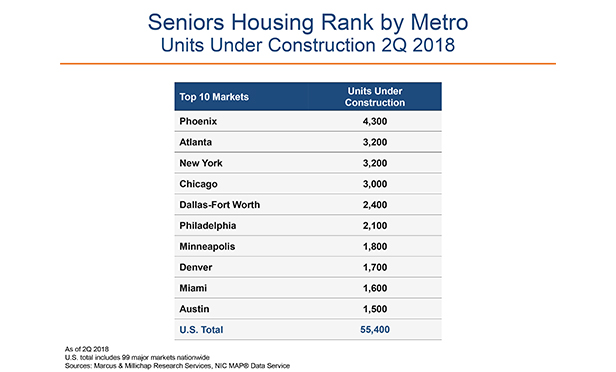 For the record, the Top Five are (in descending order of new units): Phoenix, Atlanta, New York, Chicago and Dallas-Fort Worth. Fold in the next group of five, and Lewis reports that, "The Top 10 markets in terms of new construction account for 45% of all new construction nationally."
The vacancies are caused not only by the flood of new builds, but also by the number of aging facilities that are online, some dating back to the 1960s and '70s, he says. Compounding matters, managed care facilities, like skilled-nursing facilities, has favored more short-term stays, which has contributed to the vacancies as well.
"Many skilled-nursing facilities are trying to be more competitive and have gone more to the short-term care model," he says. "No matter which product type we're discussing, the more you turn your occupancy, the more vacancy you'll have."
Investors Placing Their Bets
Lewis's market confidence is also being fed by the client interest he's hearing from virtually all investment segments—with the possible exception of REITs which are currently cooling their jets in terms of any real estate acquisitions.
In addition to the developers that are making their presence known, Lewis is reporting investment interest by "large private client groups, experienced owners that have operator relationships." In many cases they're focusing on the assets the REITs and institutions want to shed.
In all, through this period of adjustment and absorption of new builds, the general outlook for the entire seniors-housing market remains upbeat. "We're not alarmed by all of the new construction," he says. "We expect that to settle out."
Lewis concludes: "There are more opportunities right now than we've seen over the past few years in terms of deals coming to market, and we expect those opportunities to get even better over the next six months."