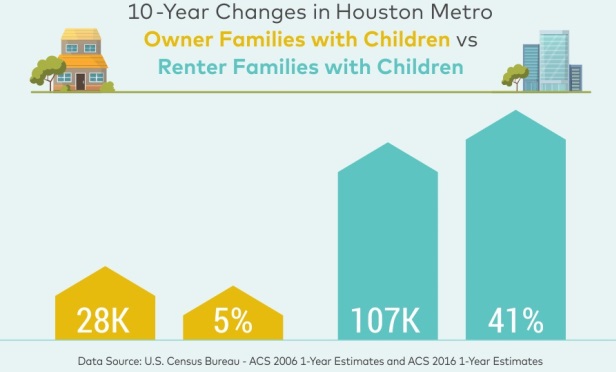 HOUSTON—Families with minor children who traditionally buy homes by the time those children reach school-age are starting to fade. Fewer US families own homes due to soaring prices and a shortage of entry-level homes. In the decade between 2006 and 2016, the drop in the number of families with children who own homes has reached almost 3.6 million, while the same demographic living in rentals has increased by 1.9 million, according to a study by RentCafe.
US Census demographics data analyzed in a national study by RentCafe showed that in the period between 2006 and 2016, there was a 14% decrease in homeowner households with minor children and a 16% increase in renters in the same demographic. In total, 14.3 million US households with minor children rent (up from 12.4 million in 2006) and 22.1 million families with minor children own homes (down from 25.7 million in 2006).
In fact, Houston and DFW recorded the largest increase in renter families. Among the nation's largest metros, Houston ranks first nationally when it comes to the net change in renters with children–an increase of 107,000 households between 2006 and 2016. Dallas-Fort Worth comes in second, posting a growth of 101,000 renter families during the same time period.
"The number of renter-occupied households with minor children living in rentals surged by 41%, versus only a 28,000 gain in owner families with kids, a 5% increase over the 10-year period," Nadia Balint, analyst with Yardi Matrix, tells GlobeSt.com. "According to the most recent Census estimates, about 530,000 Houston-area households with minor children own homes and 366,000 rent. Real estate prices are among the main factors that drive families to rent longer."
For example, Houston single-family home prices increased by 30% in the last five years, while rents have risen by 25%. In DFW, these changes are 45% versus 31%, respectively.
The demand for family-sized rental housing is also high: 1.1 million new units were built since 2006 in large-scale buildings at a national level. In Houston, 45% of the new units built between 2006 and 2016 were family-sized with two bedrooms or more, while in Dallas-Fort Worth, the percentage is 42%.
"The supply of family-sized new apartments is below the national average of 52%," Balint tells GlobeSt.com. "Two-bedroom units represent the largest share of larger-sized apartments at 38%, while three-bedroom units make up only 6% of the stock. The majority, 54% of the new multifamily stock, built post-2006 were one-bedroom units."