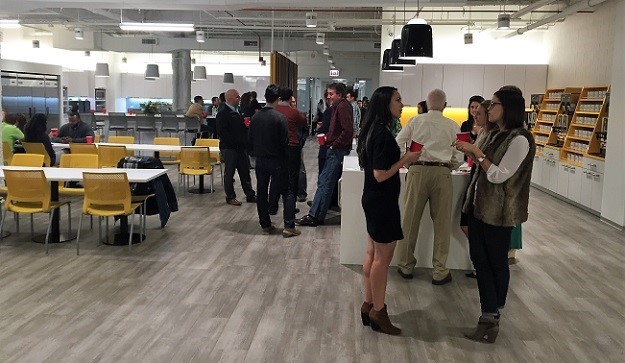 CHICAGO—Co-working has become of the true engines of the Chicago region's office market, and all signs point toward robust growth for the foreseeable future. According to Colliers International, which just issued a new report on co-working, at the beginning of 2014 providers occupied 788,898 square feet of office space across thirty-eight locations throughout the CBD and its surrounding neighborhoods. And of that space, long-standing provider Regus had 425,007 square feet, or about 54% of the market. Since then, an array of co-working companies entered the city's market, which now consists of 2,577,471 square feet of office space dispersed amongst 99 locations, leaving Regus with a market share of approximately 15.3%.
"Historically, this type of office space filled a gap for corporate sales offices, attorneys, or individuals that need a corporate address," Dave Burden, who leads Colliers' corporate solutions and occupier services practice group, tells GlobeSt.com. "But now, for tech companies that have been growing and need new offices, it's been a great way to gain a foothold."
Although co-working providers can charge double the market rate for their spaces, many firms are willing to pay, he adds. And that includes start-ups that grow enough to need three to five thousand square feet. In the past, such groups would secure their own spaces, but co-working "gives them the ability to do a deal much faster and with far more flexibility. Do they want to hire an architect and a contractor to build a space with the level of finishes in a modern co-working space?"
WeWork will have opened eight locations totaling 600,931 square feet over a three-year period by the end of 2018, according to Colliers, giving the industry-giant 23.3% of the market, the most of any provider in Chicago. Regus, now the second largest, has 393,195 square feet in 18 locations and a market share of 15.3%. Level Office, Spaces, MakeOffices, Amata and Convene all have just over 100,000 square feet and between two and five locations.
Each provides not just convenience for the business owner, but a set of amenities many find hard to provide in relatively small offices. "They want to be on the cutting edge, and these spaces are built out with an industrial look and feel that is very popular these days," Burden says. Some even have concierges to give the spaces a hotel-like feel. But the most important portions of the offices may be the high-tech cafés, which gives each tenant a townhall-type space they can use for gatherings, official corporate events, or a casual work environment for employees that don't want to feel cooped up.
"These spaces are very well-occupied, which is why co-working providers keep expanding," Burden says. It is possible, that with all of this activity, co-working providers could eventually overbuild. "Looking out over the next five to ten years, if the style of working changes, there could be a risk."
However, "right now demand is insatiable."