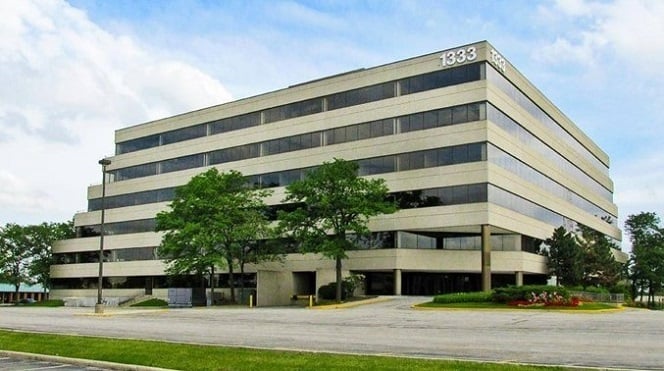 CHICAGO—The suburban office market around Chicago recently exhibited some strength, and in certain submarkets, it may even qualify as a turnaround. Owners of buildings in towns like Oak Brook, Downers Grove, or in the area around O'Hare Airport, have found that spending several million dollars on renovations can attract enough tenants to fill up properties once plagued by vacancies.
Stanton Road Capital purchased Woodland Corporate Tower at 1333 Butterfield Rd. in Downers Grove, IL, last October when it was 48% leased, but Colliers executives Francis Prock and David Florent recently signed several leases – totaling 74,760 square feet –bringing that up to 93%. And Florent tells GlobeSt.com that committed ownership was the key.
"They hired an architect immediately and began making improvements even before they had a tenant," he says. By contrast, many new owners just show renderings to prospective tenants and won't consider launching renovations until deals are signed.
Built in 1984, "this property had seen very little by way capital expenditures in recent years," Prock adds. And Stanton is ready to do more to change what had been a class B+ building into an A-. The company will update common areas including the lobby and tenant corridors as well as the conference facility. A new "grab and go" food service will be introduced while a new tenant lounge and a fitness center, complete with upscale bathrooms and lockers, will be built.
"It's a smaller building that you can make feel like your own," Florent says, and that was important for Elkay, a manufacturer of foodservice equipment, which just signed a new, 47,073-square-foot headquarters lease. Furthermore, all the new additions will ensure tenants "feel like they are in a hotel."
Other deals signed by Prock and Florent include:
Securitas signed a long-term extension on its existing 18,122-square-foot lease.
Pinkerton, a subsidiary of Securitas, signed a new lease for 2,145 square feet.
Advizor Solutions, providers of business analysis software and consulting services, expanded from 3,500 to 4,020 square feet.
Martin Whalen Office Solutions, a subsidiary of Xerox, leased 2,900 square feet for its regional office.
"The entire Colliers team has been very focused on this project and has done an outstanding job – from driving leasing absorption, to executing the construction elements of the business plan," says Timothy Ronan, Jr., SRC's founder and managing partner.
Another lesson, according to Florent, is that many suburbs are filled with 1980s-era buildings that "just need a facelift."