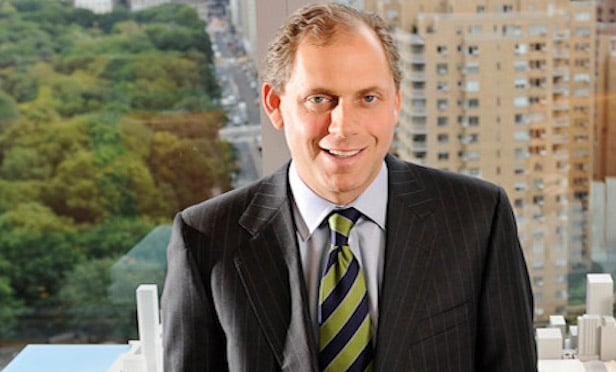 NEW YORK CITY—The Related Companies, the United Brotherhood of Carpenters and the New York City District Council of Carpenters have reached a labor agreement on the 50 Hudson Yards project that they say will foster the creation of millions of man-hours for union carpenters.
Related has no such agreement with other organized trades under the umbrella of the Building & Construction Trades Council of Greater New York, which in a statement scoffed at Related's deal with the carpenter's unions and in fact stated that Related is using the carpenters "as a public relations pawn to engage in union busting."
Earlier this year, Related Co.'s $25-billion Hudson Yards project filed a lawsuit against the Building & Construction Trades Council of Greater New York, accusing the labor organization of engaging in corrupt practices.
The deal reached between Related, the UBC and NYCDCC will be initially implemented on the 2.9-million-square-foot 50 Hudson Yards office tower project. NYCDCC members will be providing a substantial portion of skilled services for that project including foundation, superstructure concrete, finishing framing, interiors, carpentry, and millwork. Related states the deal with the carpenters will significantly expand opportunities for local New Yorkers to join the union and be part of building Hudson Yards.
The new agreement will also be utilized at the upcoming Western Rail Yards at Hudson Yards, which Related states will generate millions more man hours for union carpenters.
Bruce Beal, Jr., president of Related Companies said, "We appreciated our ongoing relationship with the UBC and the NYCDCC and their willingness to think outside the box in a progressive way. This new model reflects our shared values and commitment to good paying jobs with great benefits, skills training, and advancement opportunities. It creates a true pathway and ladder for future professional growth for their members and helps us ensure that we are providing more inclusive opportunities to local New Yorkers who can join the Carpenters and be a part of building New York's skyline."
Beal adds, "This type of creative thinking should be replicated throughout the city and the industry and we look forward to more partnerships with union trades on the future phases of Hudson Yards."
Douglas J. McCarron, UBC general president, said, "Related, the UBC, and NYCDCC share a common goal of creating not only good paying and safe jobs, but also a mechanism for opportunity, training, and professional growth. The old approach limited advancement opportunities and created inherent inefficiencies for us and our contractors. This new model reflects the future of union labor in New York."
Joseph Geiger, executive secretary-treasurer, of the NYCDCC, also praised the agreement with Related. "We have a responsibility to our over 20,000 members and we are dedicated to guaranteeing that every one of them has a pathway to a stable, working-class lifestyle through good paying jobs, career opportunities, healthcare and retirement benefits," Geiger says. "We can only do this by adapting to the changes in our industry.
Geiger, then in an apparent swipe at other unionized trades, adds, "This District Council, and the unionized construction industry as a whole, cannot remain stuck in the ways of the past while the industry evolves around us. Modernizing our approach is the only way to ensure we can put our members to work and produce the highest quality work."
A spokesman for the Building & Construction Trades Council of Greater New York, states, "While Related claims to have 'pulled off a strategic coup' against the Building Trades, there is actually nothing new here and this is simply another press stunt. Related has no loyalty and is using the carpenters as a public relations pawn to engage in union busting."
Among the numerous charges leveled at Related in its press statement, the trades council says, "Related's agreement with the national Carpenters does not give them what they need, a skilled labor force beyond carpentry that can build the project."