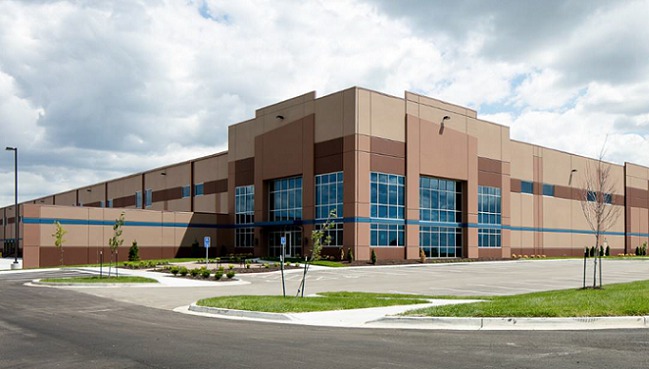 KANSAS CITY—This metro area has become one of the go-to places for e-commerce retailers, and companies are filling up new spec developments almost as fast as builders can put up walls. Turn5, a national provider of automotive products, just decided open a new distribution center in suburban Lenexa by taking 365,000 square feet at 17700-17790 College Blvd., one of the region's many new spec buildings.
"We haven't seen any spec development sit without a tenant for more than a few months," Chris Gutierrez, president of KC SmartPort, tells GlobeSt.com. Turn5 will be the first tenant in the 635,800-square-foot building, recently constructed by Block Real Estate Services.
"The region's central location and infrastructure mean 85% of the US population can be reached from Kansas City within two days or less," adds Tim Cowden, president and chief executive officer of the Kansas City Area Development Council. "That equals huge value for e-commerce fulfillment."
Gutierrez says that, like many other firms here, Turn5 has several significant distribution facilities in other parts of the nation, but plans on making the Lenexa operations its most important distribution center.
Turn5, the operating company for AmericanMuscle.com, ExtremeTerrain.com, and AmericanTrucks.com, estimates it will create 100 jobs here over the next three years.
Demand for companies like this has fueled a true construction boom. In the last five years, Gutierrez says developers created about 25 million square feet of new industrial spec space.
In 2017, developers in the Kansas City area completed distribution and fulfillment facilities that ranged in size from 100,000 to 1.2 million square feet, and brought in e-commerce companies like Amazon and Hy-Vee Aisles, major retailers like Dollar Tree, and companies like Spectrum Brands and Horizon Global.
And the boom is not over. Gutierrez estimates about four million square feet is either under construction or recently finished. Furthermore, market analysts say tenants that need a total of about four million square feet are currently looking for space. "Our pipeline of deals is very strong."
The 36' clear building at 17700-17790 College Blvd. has been listed for sale at just over $40 million.